ACT Fibernet Announces 1000 MBPS  Broadband Plan in Hyderabad at Rs. 5,999 With 1TB FUP Per Month.
ACT Fibernet, one of the India's leading non-telco ISP in India, a couple of days back launched the first of its kind broadband plan promising speeds of 1 Gbps for the first time in India. The plan is currently available to only the residents of Hyderabad.
However, ACT promises that they will bring the plan to all the 11 cities where they operate in the country.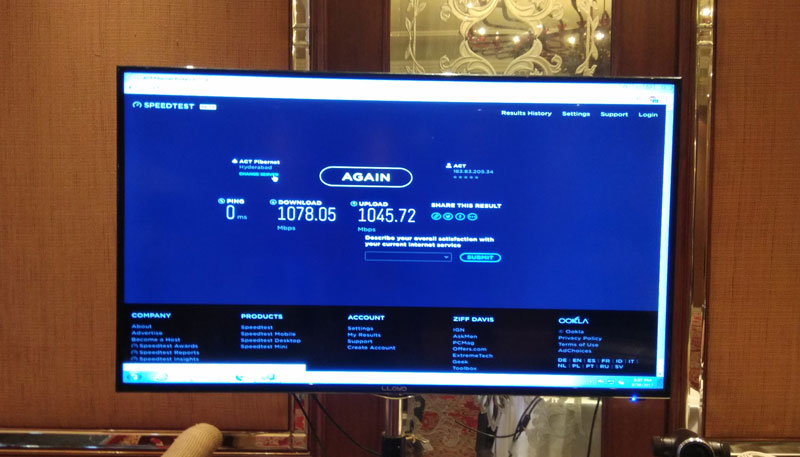 ACT Fibernet has made Hyderabad as 'GigaCity.' The plan costs Rs. 5,999 in the city and comes with a monthly FUP of 1TB. With this plan, ACT has changed the entire scenario of Hyderabad, where internet speeds used to be 2.5 Mbps, and now they have become 400 times more than the previous offerings.
With this Giga Plan launch, Hyderabad joins the elite club of 1000 MBPS speed countries such as South Korea, US, Hong Kong, Japan, and Singapore. After the FUP limit of 1TB per month, the speeds will be dropped to 10 Mbps.
Speaking at the launch Bala Malladi, Chief Executive Officer of ACT Fibernet, said, "With our citizens and the government moving towards the Digital India movement, high-speed internet is the need of the hour."
ACT Fibernet also said that Hyderabad is the most internet consumed city in the country with an average user consuming 75 GB of data per month, which is insane. ACT Fibernet did not motion any estimated date about the launch of this plan in other cities.
I am personally using the Hathway Plan in Mumbai which comes with a 50 MBPS fiber optics cable and offers really great speed for all day to day tasks like uploading YouTube Videos or watching Netflix or Amazon Prime.
It will be exciting to see how the 1000 MBPS line works in the real world scenario or if it has the low latency to open up the websites faster or game with no lag. That depends on the ISP connectivity.
JIO is also planning to launch the 1000 MBPS  line very soon in Mumbai, as I met some of the officials last week who were surveying the area around Santa Cruz.
Thanks for Reading the Article – Fastest Broadband in India 1000 MBPS From Fibernet Launched.
Check Out Our Latest Video and Subscribe to Candytech Channel!!!