What is the Difference Between Prepaid and Postpaid?
In prepaid, you pay first (or recharge), and then only you can use the service. In Postpaid, you can use the service first and pay the bill later. Prepaid Vs. Postpaid has several Pros and Cons that I am listing below.
Most people in India use prepaid. Based on data from TRAI, about 95% of people prefer prepaid over postpaid. For most people, prepaid is a better choice.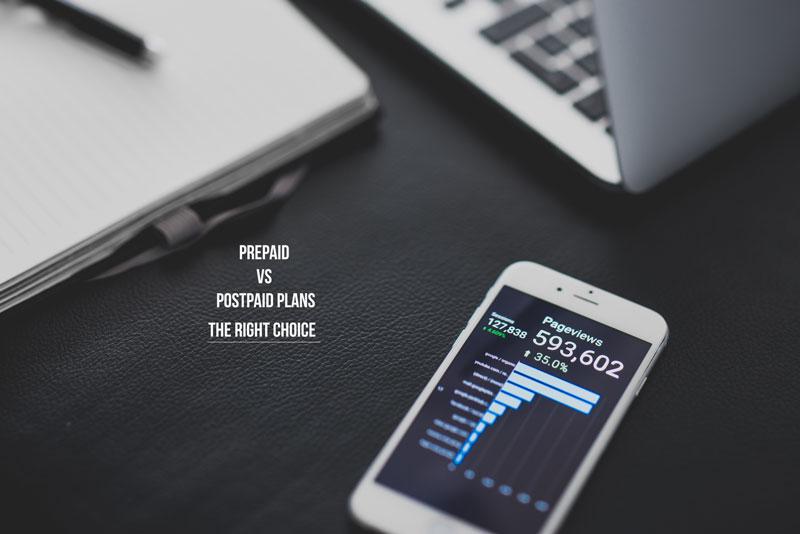 Prepaid Vs. Postpaid – Key Differences
| | |
| --- | --- |
| Postpaid | Prepaid |
| With postpaid plans, you don't need to pay anything upfront; you get a monthly bill after using the services. | In Prepaid, you need to recharge (pay) upfront, to use the benefits. |
| You use it first and then pay later. | As the name suggests, "Prepaid" – you pay first and use it later. |
| There are sometimes overage charges | There are no overage charges |
| Postpaid Users get a detailed bill every month. | You don't get a detailed bill of usage |
| Less Control on bills and spending. | 100% Control on spending. |
| Difficult to Access Customer Support | Much Better Customer Support and Helpline. |
| Only 5% of users in India are Postpaid Subscribers. | About 95% of users in India use a prepaid connection. |
Let's consider why you should opt for a postpaid or prepaid plan currently in India. There are pros and cons, and let me discuss some of the critical points, differences, and benefits of each to help you make the right choice.
What is Postpaid?
You use the service first and then pay later: In postpaid, you can use the service first, and then at the end of the month, you need to pay the bill based on the usage.
Postpaid Plan Advantages
1). Affordable Plans – Postpaid plans have become cheaper; most operators offer unlimited calls and SMS and 40 GB of data per month Rs. 399.
Similar plan offers are from Airtel, Vodafone, and Idea and at slightly different MRPs, depending on your state.
Your maximum bill will be close to Rs. 400 a month, but beware of VAS and other feature charges which the operator can slap on, plus there is also 18% GST.
JIO is even cheaper with 199 rental (for unlimited calls and 25 GB Data) or an Rs. 399 Rental offers 75 GB of data, unlimited calls, and also a subscription to several services such as Netflix, Amazon Prime, and Hotstar VIP, to name a few.
Once you consume the 75 GB of data, you will have to pay – Rs 20/GB, which means if you consume 50 GB more data, you will have to pay Rs. 1000 more.
2). Pay Later – Postpaid has an advantage. You need to pay the bill after using the service named postpaid.
Also, it is convenient compared to prepaid, where your phone will stop working when the balance or the plan gets over.
With postpaid, you get a few grace days even after your due bill date, and you can continue to use your mobile without any issues.
3). Better Customer Support – Postpaid customers get better customer support and have faster access to the customer helpline executives. It is hard to get access to phone support for prepaid users. (Long waiting Queues).
4). You get a detailed bill every month with the postpaid plan and can also use that proof of address at several places.
Disadvantages of Postpaid Connections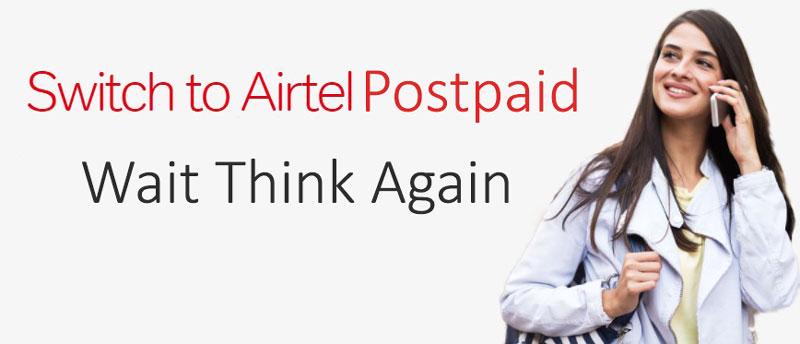 1). Bill Shock- You will get a bill shock at one point or the other for many reasons. Suppose you go roaming and your plan has high roaming call rates; you may get a higher bill.
If your ISD service is active, and by mistake, some calling to ISD destination happens, you can get a huge bill.
If you exceed your data usage limit, you may get a very high bill as operators charge 4P per 10KB or Rs 4000 per GB for data on default data charging.
2). Plan Change – Changing a plan can lead to a very high bill due to pro-rata charging. I recently downgraded my plan from a 999 to a 499 plan and got an Rs. 2000 extra bill for data used as pro-rata data charging is applied when you change the plan mid-cycle.
3). Lack of Control on Expenses – Postpaid doesn't allow you to keep tight control on the expenses; you get the bill after a month, though you can track the bill from the operator App and other means, at times, you can incur charges which can lead to additional bills.
4). MNP is difficult for Postpaid – My MNP request was rejected three times by my operator, stating ridiculous reasons.
Postpaid customers are high-paying, and companies don't want to lose them easily, so they primarily try to prevent a port-out using fair and unfair means.
5). In the case of a High Bill – If you have got a high bill, despite incorrect or mistaken charges, you are liable to pay it, to keep using your mobile number.
Prepaid – Why is it Better? Advantages and Minor Cons
What is Prepaid Plan?
Prepaid is paid first and used later. You need to pay the company first, and then you can use the service.
Prepaid comes with several advantages over postpaid. Firstly, the Prepaid plans have become insanely cheap after telecom operators (JIO, Airtel, Idea, and Vodafone) launched affordable unlimited Voice calling plans with high data. Let me share more benefits of Prepaid plans below:
Advantages of Prepaid Plans
1). No Bill Shock – In Prepaid, you recharge your phone, get the balance, or activate your calling pack, which comes with fixed validity, and if you consume it earlier, you need to recharge again.
There are no hidden charges and no chance of spending a considerable amount of money like postpaid.
2). Ease of changing tariff packs – You don't get any pro-rata data are charging bills when you want to change the pack.
3). Many Choices – You have many prepaid choices, from unlimited voice and data packs, bulk minutes packs, rate cutters, and special data recharge.
The choices and pack availability are much higher in comparison to postpaid.
The flexibility of changing your packs and options is enormous in prepaid compared to a limited number of postpaid plans.
4). 100% Control on Spending – You can keep your spending as low as you want, and you don't need to pay the fixed Rs 549 monthly rental, which you took when you needed to use your phone more.
You pay what you use in prepaid, but not based on your plan.
5). High Bill Due to Misuse- If ISD calls or a high amount of data is used on a postpaid connection, you will get an enormous bill.
In Prepaid, in the worst case, your balance will become zero; you can't get a bill shock.
Concluding Thoughts and FAQs – Prepaid Vs. Postpaid in India (2022)
I have worked in the Telecom Sector since 2008, and here is what I think is better in the current scenario.
The Telecom business has changed in the last few years in India after the launch of Reliance Jio. Reliance JIO launched the unlimited Voice calling plans (Rs. 249) with 1or 2 GB / data per day, making prepaid very attractive and affordable.
These benefits in the Pre-Jio era from Airtel, Vodafone-Idea would have cost Rs. 2499 per month, but not anymore.
While Postpaid was a cheaper option before the Reliance JIO launch, Postpaid Plans offered better benefits than prepaid. But after the JIO launch, the scenario changed; unlimited monthly packs are available in prepaid that is dirt cheap.
Why Should You Opt For Postpaid Plan from Airtel, JIO, or Vodafone Idea?
On the other hand, postpaid is desirable if your company pays the bill and you don't have to bother much. You don't need to recharge or do anything. Postpaid just works. Unlike prepaid, which stops working when the recharge validity or benefit is over, postpaid continues to work.
Is Postpaid Data Speed better than Prepaid?
The postpaid and prepaid data speeds are the same for Airtel, VI, and JIO. Telecom Regulatory Authority of India (TRAI) doesn't permit such discrimination between users. You will not get more data speed on postpaid. However, you can get better customer support in comparison to prepaid.
Prepaid Vs Postpaid JIO
There is no real benefit to opting for Jio postpaid as the prepaid pricing is cheap, and you don't have to worry about bill shock and other issues.
Prepaid Vs Postpaid Airtel
For Airtel, you need to get a postpaid plan; you are good with the prepaid plan. You can do a yearly recharge and use it without any issues.
Why Should You Get a Prepaid Plan?
Opt for a prepaid plan if you want 100% control over your spending and keep the expenses in your control.
I think prepaid is excellent for most individual users. You can take an unlimited pack for three months or even a year and keep a Rs 100 balance on your phone for trouble-free usage.
Also, you can read about the best-prepaid plans comparison, and the best post-paid plans comparison.