Asus has recently launched the new Asus Rog Phone 3 in India and it is the third generation gaming mobile from the Taiwanese company. 
What differentiates the Rog Phone 3 from other high-end phones is the honest pricing, amazing performance, innovative features,  and incredible battery life that make it suitable for daily use for most people, not just the gamers. 
I have used the Asus Rog Phone 2 and the minor complaints that I had on that phone are fixed by Asus in the latest iteration.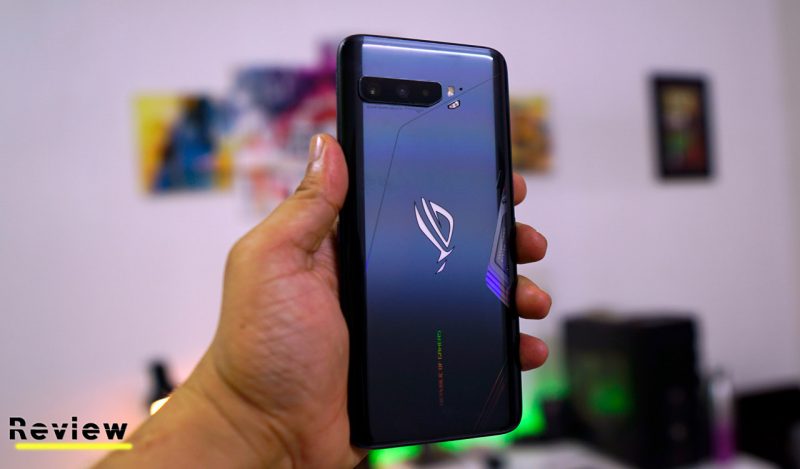 The key highlight feature for the Asus Rog Phone 3 are as follows: 
Snapdragon 865+ – Best Processor that you can currently get.
6000 mAH capacity battery – Insanely long battery life. 
Near Stock Android Experience. 
144 Hz Amoled Display 
Superior Audio – Dual Front Speakers
Price and Models
The Rog Phone 3 is available in three variants in India : 
Asus has recently dropped the price for the Rog Phone 3 by Rs. 3000. 
128 GB storage and 8 GB Ram – Price Rs. 49,999 – After price drop – Rs. 46,999
128 GB storage and 8 GB Ram – Price Rs. 52,999 – After price drop – Rs. 49,999
256 GB storage and 12 GB of Ram – Price Rs. 57,999 – After price drop – Rs. 54,999
Special Discount on ROG Phone 3 (6th to 10th December)
Asus is offering incredible discounts on the new ROG Phone III from 6th to 10th December on Flipkart Mobile Bonanza.  You can get nearly Rs. 4000 off on the ROG Phone during this period if you buy using the HDFC credit card. 
| | | | | |
| --- | --- | --- | --- | --- |
| ROG Phone 3 Variant | Price | Mobile Bonanza Sale discount | Sale Price | Sale Price With HDFC Discount |
| 8|128 GB | ₹46,999 | ₹2000 | ₹44,999 | ₹43,249 |
| 12|128 GB | ₹49,999 | ₹2000 | ₹47,999 | ₹46,249 |
You can buy the Asus Rog Phone 3 from Flipkart.
Check Our Video Review of the Asus Rog Phone 3 (Hindi).
Asus Rog Phone 3 Review in Hindi
Inside the Box
Inside the box, we get the Asus Rog Phone 3, a 30 Watts charger, a cool looking back cover, and a dongle to convert the USB type C port to 3.5 mm headphone jack. 
Design
First, let's talk about the design of Rog Phone 3. It comes with a unique aurora lighting at the back with a glowing ROG logo that looks super cool. You can turn it on or off from the quick toggle using the system lighting.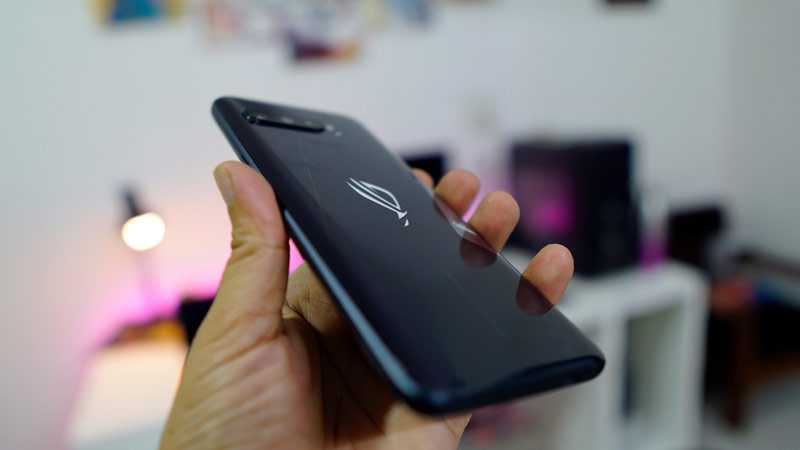 I would love if Asus can enable the RGB lighting for some notifications, reminders, or alarms. That will be fun to use.
The phone is pretty large and heavy. It weighs 240 grams and it takes a couple of days to get used to the slightly heavy device. That's the trade-off that we have to accept for having the massive battery capacity. 
Asus has not changed the design and form factor for the ROG Phone 3 in comparison to the ROG Phone 2 as buyers can use the same accessories with it without a need for re-purchase in case you are upgrading from the older Rog Phone. 
The front side has bezels at the top and bottom. But these bezels serve the purpose of housing very loud and high-quality front-firing dual speakers better than I have heard on any other mobile. 
The backside is made of plastic to keep the weight low and is glossy. The edges and the frame are solid metal, making the overall build very robust. 
Display
The Rog Phone 3 comes with a large 6.59-inch AMOLED display, AMOLED 10-bit HDR display with a tall 19.5:9 ratio aspect ratio. The display has FHD+ (2340×1080) resolution and boasts of 144 Hz refresh rate and 1 ms response time.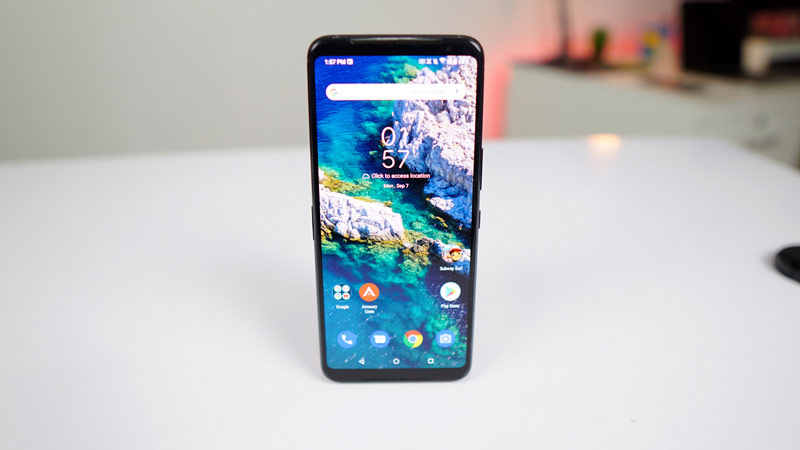 The display is sufficiently bright and offers 650 nits of maximum brightness. Furthermore, it comes with support for HDR10 and HDR10+. Besides, the colors are accurate with 113.3% DCI-P3, 153.7% sRGB color gamut.
Lastly, protecting the display is the Corning® Gorilla® Glass 6 (latest and best-hardened glass to prevent any damage to the screen). 
Overall the display quality is decent and you will enjoy playing games like Fortnite, COW mobile, or other fast-paced games on the 144Hz panel. 
Moreover, we are getting the Auto-refresh rate option in the settings that will automatically adjust the refresh rate based on the usage and application.
This feature is particularly useful to improve the overall responsiveness and also saves battery life.
Notably, you can manually adjust the refresh rate to 60 Hz, 90 Hz, 120 Hz, or 144 Hz. 
Performance
Powering the device is the latest Qualcomm Snapdragon 865+ Octa-Core processor that is best available on any Android mobile at the moment. 
I loved the super-smooth performance on this device, no lag what-so-ever. 
The processor comes with a prime Kryo 585 Gold core running at 3.1 Ghz maximum clock speed and the other three cores running at 2.42 Ghz and the remaining 4 cores running at 1.8 GHz.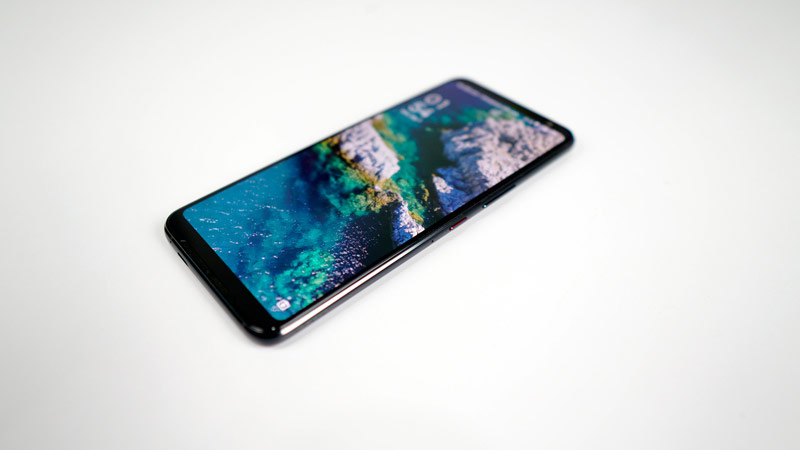 Also, it comes with the Adreno 650 GPU that is excellent for gaming and even has the X55 5G modem to support 5G connectivity whenever the 5G services launch in India. 
It can easily max out most games with high-end graphics like Fortnite, PUBG mobile (hmmm… not anymore), or the Asphalt 9 legends that I tried on it for many hours. 
After an hour of gaming, it became mildly hot like most other phones, still due to the cutting edge cooling tech and polycarbonate back cover it doesn't feel hot. 
It really blows the benchmark scores and is even faster than some of the mid-range laptops.
Antutu Benchmark Score – 632,344
Geek bench Single-Core Score – 987
Geek Bench Multi-Core Score – 3312
Another highlight of the Rog Phone is the presence of the high-Speed UFS 3.1 storage that allows faster file transfers and app loading. 
Also, there is LPDDR5 Ram instead of the usual LPDDR4 memory, making the overall performance even better. 
Os and Experience
The Asus Rog Phone 3 runs on the Android 10 OS and comes with the custom ROG skin. 
You can change the theme from Gaming to standard Android with one tap and make it feel like a regular Android device. 
Moreover, you can turn off the Dark reactor ROG skin and switch to classic Vanilla Android or even the light luminous Core skin from the settings>>themes.
Also, we get an X mode that you can enable from the quick launch bar at the top of the screen for sustained gaming performance. 
Cameras
The phone comes with the primary 64-megapixel Sony IMX686 sensor for the main camera, and has an f/1.8 aperture(good for low light imaging). 
The second camera comes with the 13-megapixel ultra-wide f/2.4 camera, and a third 5-megapixel macro camera as well. 
Check below the samples from the Primary 64 MP rear camera and the 13 MP ultra-wide lens. 
You can click on the images to check full-size camera samples. 
Primary Camera and Ultra-Wide Shots
The cameras are undoubtedly better in comparison to the ROG Phone 2 in most of the scenarios that I tested.
Overall the cameras are decent and make it easy to shoot good images. 
Most of the Macro cameras with 2 MP lenses lack details and natural colors but to my surprise, the ROG Phone 3 has a pretty good macro camera. Can check the samples below.  
Macro Camera Images
For selfies, there's a 24-megapixel f/2.0 camera for selfies. Selfies are also detailed but at times I feel they have a little bit less contrast. 
Selfies (24 MP Selfie Camera Images)
Videos
You can shoot 4K videos and even 8K videos with the Rog phone. The phone has 3-axis EIS that works well to stabilize the footage. Overall video quality and sound recording is appreciable. Check our video review for sample Video footage from the camera.
Battery Life and Charging
The battery life on the ROG Phone 3 is insane as it comes with a massive 6000 mAH capacity battery.
It can easily last 1.5 days with medium to heavy usage and I love the fact that it doesn't die when I am binging Netflix at night even after a long day. Most phones give up at night. 
The phone comes with a 30 Watts Charger with Q.C 4 support and can fill the entire battery in 
There is a lack of wireless charging that may be disappointing to some of the users. 
Sound
One of the best features of the Rog Phone 3 is the front-firing dual speakers that are loud and offer good-quality playback. These speakers remind me of the HTC boom sound from the good old days. 
Most of the current-gen phones have tiny bottom speakers that are not loud usually.  
Asus made the hard choice of ditching the headphone jack and bundled a USB type C to a 3.5 mm headphone jack converter in the box.
The Rog Phone 3 has got two USB Type C ports. You can use the dongle with one port while charging the phone using the other. 
The phone comes with dual amplifiers and Dirac HD enhancement and also has an audio wizard that I often use to fine-tune the audio based on the headphones that I am using with the device. 
 Also, we have the essential support for codes to deliver lossless wireless audio – aptX HD, adaptive, and TWS+, AAC, and LDAC.
Lastly, we have got four microphones to help reduce background noise. 
Connectivity and Call Clarity
You can easily use dual-sim with the Rog Phone 3 and it comes with Dual 4G VOLTE support. 
There is another nifty feature called HyperFusion – it claims to aggregate your cellular and Wi-Fi connections for better speed and lower latency for data connectivity. 
I used the phone with the JIO sim and it worked as intended. The call quality is good and the audio from the speakers is quite clear. 
Also, the dual speakers at the front are loud and clear that allowed me to take calls without any issues. 
There's dual-band Wi-Fi 6 (802.11ax), multiple positioning systems including NavIC, and NFC and Bluetooth 5.1.
Other Features
Let's talk of some of the other features that the phone has to offer: 
Airtriggers – Another notable feature is AirTriggers: shoulder-mounted pressure-sensitive trigger buttons that let you assign in-game touch actions.
These are very similar to what we have seen on the ROG Phone 2. 
The buttons have 20ms latency & adequate haptic feedback. You can customize the actuation force required to use the triggers. 
Optiflex – This feature improves app opening performance by keeping some of the apps pre-loaded in the Ram. 
Asus's Armory Crate app – it gives you some of the essential gaming-centric functions such as – manage alert, a brightness lock, the refresh rate, screen recording, game streaming, Airtriggers config, RGB lighting effects, and monitor temps, clock speeds, and other stats.
Some Cons
All gadgets no matter how good they are have few things missing. Rog Phone 3 is no exception. 
Firstly, there is no 3.5 mm headphone jack.
 Also, there is no IP rating or wireless charging support that you may find in some of the more expensive phones. The phone is a bit heavy and takes few days getting used to it.
Concluding Thoughts
The RogPhone 2 is one of the best-rated mobiles on Flipkart with the highest rating by buyers. 
I have used that phone and it is worth buying.
With the new Asus Rog Phone 3, Asus has improved an already good product by adding the latest processor, faster charging, and vastly improved camera system.  
For its starting price of Rs. 49,999 you get a device that is ideal not only for gamers but users who want a wicked fast phone, with decent cameras, excellent battery life for all-day use.  
You can easily disguise the Rog Phone 3 as a normal non-gaming mobile and use it in any professional environment without attracting unnecessary attention.
Despite the increase of customs duties and taxes on mobile phones the Rog Phone 3 is priced attractively in the Indian market and is a superb purchase for long term use. 
To conclude, the ROG Phone 3 is a no-compromise flagship for 2020 that you can buy if you are looking for the best mobile under 50k price tag. 

Candytech.in
Asus RogPhone 3 Review Summary
Review Summary Rating
Design – 9/10
Battery Life – 9.5/10
Display – 9/10
Performance – 9.5/10
Cameras -9.0/10
Sound Quality – 9.2/10
Connectivity – 9.3/10
Other Features – 9/10
Overall – 9.3/10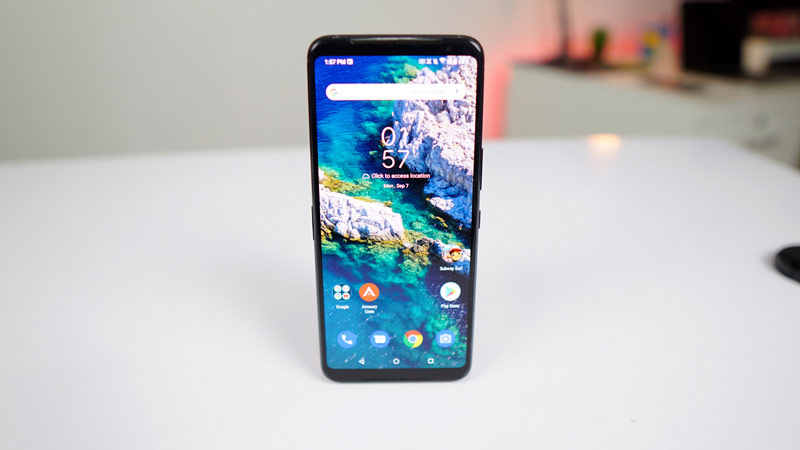 Check Out Our Review for the Rog Phone 3 in Hindi
Also, Read:
Asus Rog Phone 3 offers 16 GB Ram, 512 GB Storage, 144Hz Display (Price, Specs)
10 Best Smartphone Under Rs 50000 India ( Flagship Mobiles)
10 Best Mobiles Under Rs 40000 India 2020 (30k-40k)
*Disclosure - Dear Reader, Independent, Unbiased Tech Journalism is getting harder. To keep the lights on, Candytech.in really needs your help. Share, Like,
Follow-Us on Social, Sign-up
, or buy products using our links to keep this small business alive. Thank You For Being A Reader!