Planning to Buy a Big Battery Mobile with 6000 mAH or 7000 mAH Capacity – Read This Before Buying.
There are two types of people in the world – one who will agree 100% with this article, and others who will vehemently disagree. (And will probably troll me for writing this).
Nevertheless, whichever side you are on, I am going to say what's bubbling inside me for days. Hear me out even if you disagree.
And even if you disagree, you are not wrong in any way. But do share your thoughts in the comments, I like to read and reply to them.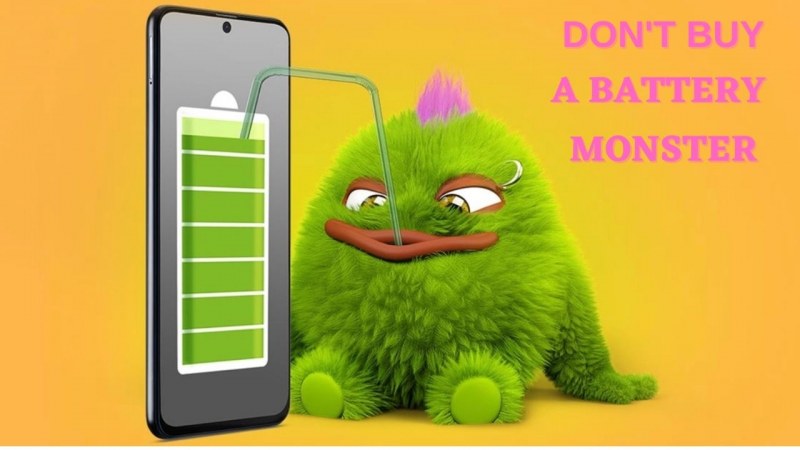 I will get to why it is a bad idea to buy a monster battery phone, but first, we need to know some crucial things.
Why Thin and Sleek Phones Disappeared?
There was a time before 2014 when smartphone companies were crazy to launch thin and sleek phones. Vivo (X5 Max) and Oppo (R5) came with even less than 5 mm thickness.
Crazy thin!
Thin was the new Sexy for Smartphones!!!

Back then, the smartphone displays were small, 5 to 5.5 inches max, and the batteries were in the range of 2000 to 3000 mAH.
The phones were sleek and easy to carry and use. But the biggest issue was the freaking low battery life.
Another big change that happened was the upgrade from 3G to 4G network.
The battery drain was more on 4G in comparison to 2G and 3G. However, as the tech advanced, mobile processors and modems got optimized for 4G network usage.
Also, with cheaper data access, and video content & mobile gaming taking off, the daily smartphone usage for most people increased drastically.
All of this paved the way for phones that had more battery capacity.
Then bigger phones with large displays and batteries were launched by companies to meet the demand.
How were 6000 to 7000 mAH battery phones born?
Asus was one of the first companies to launch phones with a 5000 mAH capacity battery – Asus Zenfone Max.
Several phones like Samsung Note Series, Xiaomi Mi Max, and others came with 6.0+ inches display and large batteries – over 4500 mAH.
Xiaomi launched phones like the Redmi Note 4 and Note 5 Pro with 4000 mAH batteries that became very popular.
By mid-2019, a lot of mid-range phones started to come with 5000 mAH batteries or even more.
These 5000 mAH battery phones were bulky, but the trade-off was all-day usage without the need for recharging.
Most brands caught up with the trend of "Big Battery Mobiles" and started offering 5000 mAH capacity batteries; There was not much left to differentiate for mobile companies.
Then some brands started offering 6000 and 7000 mAH battery capacities.
Asus ROG Phone or the Samsung M51 are a few phones that come with a massive battery.
Now, let's get to our real question –
Do we really need a 6000 mAH or 7000 mAH battery Mobile?
Most people don't need an oversized battery mobile. They can easily use a phone with a 4000 to 5000 mAH battery, and it will last from morning to night.
But some users may need a phone with huge batteries. People who do a lot of gaming on the phone or use it non-stop for several hours every day.
Also, if they don't have access to a charger or travel daily they may require it.
Why we don't need a massive phone with a 6000 or 7000mah Battery?
Let me give you eight reasons why you or anyone else should not buy a monster battery mobile.
They Are bulky as Hell!
Firstly, most big battery phones weigh more than 210 grams.
Samsung M51 with 7000 mAH battery weighs 213 grams, Samsung F62 with 7000 mAH battery – weighs 218 Asus ROG Phone 3 (6000 mAH Battery) – 240 grams.
Also, guess what – all of these phones come with a plastic back cover. Have they used glass? These would weigh over 250 grams.
Once you add the tempered protection glass and a back cover, these literally feel like a brick.
Your phone can serve the purpose of self-defense in the hour of need. Pun Intended!!!
Thick Unaesthetic Design and Look!
Not only are these phones bulky, but they are also thick. Most big battery phones have a thickness of 9.5 mm or even more.
In comparison, the iPhone 12 has a 7.4 mm thickness, and even most phones like Oneplus 8 or Vivo V20 Pro 5G are close to 7.5 mm to 8.00 mm in thickness.
I love things that are designed with a purpose and are aesthetic. I hate big laptop chargers, the big notch on phones like Pixel 3XL, and 50 other bad design ideas by companies.
Most budget phone buyers don't give this much thought, but flagship buyers consider a lot of things before buying.
Hand Fatigue
One of the most important reasons that I won't buy a bulky phone in hand fatigue. I have used phones with heavyweight (220 gm+) and these are very uncomfortable to use for long hours.
I usually read or binge for 2-3 hours before I sleep on weekends. Holding a heavy phone for this long really causes muscle fatigue after some time and this is probably the most annoying thing when using bulky phones.
Why don't Flagship Phones use Oversized batteries?
Look at the latest iPhone 12 Pro, Oneplus 8T, or Samsung S21 Plus, none of these phones have a 6000 or 7000 mAH capacity battery, and they don't weigh too much or are thick.
The major reason is in-hand feel, aesthetics, and brands don't want their top-end phones to look ugly and bulky.
However, some flagships are heavy, like the S21 Ultra or the iPhone 12 Pro Max, but they have a glass build, and also they offer a Quad HD+ display that requires more energy than the FHD+ panels in mid-range phones. Hence they have slightly bigger batteries but are not oversized.
One Hand Usage!
The design, weight distribution, and thickness matter. As soon as you shift from Samsung F62 to Oneplus 8, using the phone with one hand is effortless.
The weight and the thickness makes or breaks the buying decision for me, and a lot of other people, who prefer sleek and thin phones.
Also, keeping thin mobiles in your trouser pocket is a delight.
Your Jeans won't fall down :).
Phone Falling on Nose at night
This may sound weird, but how many people have experienced this.
When you are binging at night and your bulky phone slips and land on your nose.
I am sure, you don't want it to be a bulky brick :).
Display Breaks if they Fall from Hand
Jokes aside, the bulkier the phone, it is easy to break the display.
The force with which it will hit the floor increases with an increase in weight.
The heavier the phone, the probability of the display cracking with a fall increases. If you are not using a screen guard, you will have to be extra careful with bulky phones.
One of my test phones with a 6000 mAH battery fell from a small height, and the display broke.
Most other phones would have survived that fall, but because of the extra weight, the display shattered.
Display Repair Costs May Give you a mini Heart attack.
If you have a phone like ROG Phone 3 or something expensive with a Super AMOLED display, you are getting a mini heart attack if the display gets broken.
The cost of display replacement is Rs. 16,700 for the ROG Phone 2/3, and boy-o-boy, it hurts to get an expensive display replaced.
We Have Fast Charging Now!
Lastly, why on earth buy a phone that doesn't have a crazy fast charging speed.
Most mid-range phones now are offering 30 Watts or even 55/65 Watts charging speed.
There are several phone phones like Realme X7 Pro, Oppo Reno Pro 5 that comes with even 65 Watts Charging and can charge from 0 to 100% in less than 45 minutes.
Plug these for 10-15 minutes, and you are good to go for the rest of the day.
Fast Charging + Medium Capacity battery = A Sleek Phone (is Love)
I would not buy a phone with a battery capacity of over 5000 mAH, in fact, will like to restrict it to less than 4500 mAH. Preferably have a gorgeous sleek phone with low weight that is easy to use.
Having super fast charging support has become affordable, and most recent phones offer 30 Watts+ charging speed.
Get these phones and have an amazing device to spend time with.
Don't buy the bricks!
Now Your Turn! Share your thoughts in the comments below.
Also, I wrote about what to do if your phone falls in water or you want to increase the battery life of your current phone.