Today AMD has launched the New Graphics card in India named as, AMD Radeon RX 470 priced at an affordable Rs. 15,990. 
This is mainly targeted toward giving Gamers the most affordable price for the latest technology from AMD (14 nm fabrication) for playing games seamlessly @ FULL HD (1920 x 1080) resolution. AMD has claimed that RX 470 offers 1.5 to 2.4 more performance than their R7 270.
AMD RX 470 Pricing
Before this we had named the AMD R9 270X the best graphics card in Rs 15,000 price range. The AMD RX 470 may be just over the 15K price range but it is still the best graphics card you can buy in 15k to 18k range. The other graphics card that the new AMD RX 470 competes is the Nvidia GTX 950 and to some extent the Nvidia GTX 960.
As per the early benchmarks and reviews the AMD RX 470 does better than the Nvidia GTX 960 while lags the Nvidia GTX 970 performance.  If you are looking for a Gaming PC build priced around Rs. 50,000 to 60,000 you can get the AMD RX 470 if the Nvidia GTX 1060 is out of scope for you.
Also brands like Asus and Sapphire will be early to launch their AMD RX 470 in the market very soon.
Sapphire has also launched the Sapphire Nitro with Dual Cooler as shown in the above image and looks like a decent card with better cooling compared to single blower reference design.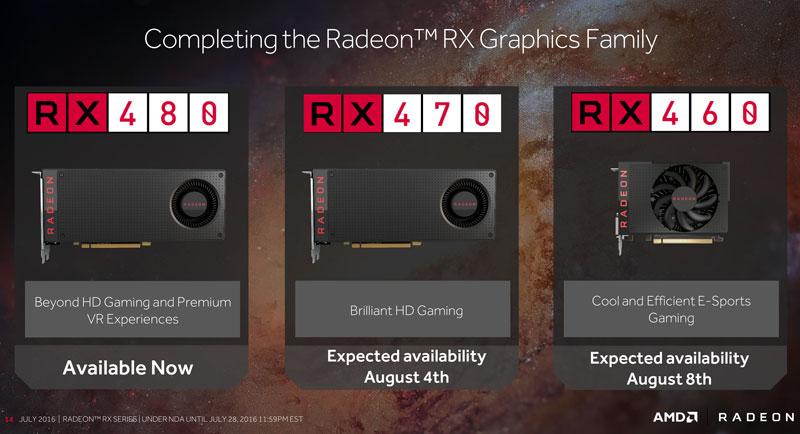 And with this release being a hard launch rather than paper launch, all the third party manufacturers would be available immediately.
In the case for India, looks like AMD has pulled some strings and has managed to price this GPU much better than AMD Radeon RX 480. Where RX 480-4GB (Rs.22,990) was priced Rs.9,700 more than their US prices, RX 470 (Rs.15,990) is only Rs. 4300 more than the US prices.
However, third party manufacturers are free to set their own prices, but we still expect it to be much better priced than RX 480 in India.
KEY SPECIFICATIONS AMD RX 470:
RX 470 has a similar architecture when compared to the RX 480, with a slightly lesser clock speed and 4 lesser CU (Compute Units) making it to have 32 functional CUs.
What are CU ? – Well they can be thought of as the heart of the GPU. The superior RX 480 had got 4 wafers with each wafer having  9 CU, which makes  (9 times 4 = 36 CU). RX 470 has the last 4 CU from the last wafer disabled which makes it cheap and yet surprisingly neck to neck with RX 480 4 GB model. This reduces its Stream Processors count to 2048 from 2304 on the AMD RX 480.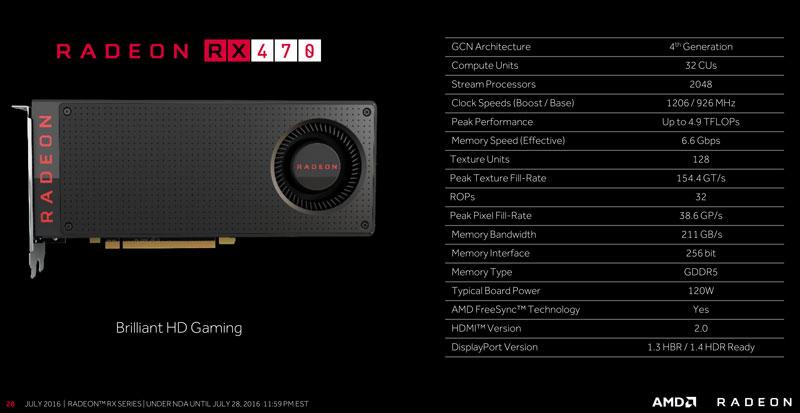 Memory bus is same as the RX 480, that is 256 bit. And with the memory clock speed of 1650 MHz, and full utilization of 4 GB GDDR5 thanks to the bus, it comes to an impressive 211 GB/s Bandwidth, which is just 13 GB/s shy from RX 480 (4 GB model) bandwidth.
The graphics card comes at a clock speed of 926 MHz to 1206MHz. (RX 480 Max Clock speed was 1266 MHz). The AMD RX 470 has 5.7 Billion transistor count same as RX 480 8 GB, and is expected to give around 4.9 TeraFlops of performance.
Typical Board Power is at 120 W, which is obviously lower than RX 480's and requires just a 6 pin PCIe power connector same as a Nvidia GTX 1060 graphics card which helps it avoid the power draw problems RX 480 faced upon its release.
Also looking at cards output ports, just like RX 480 it has dropped DVI legacy support for HDMI port and 3 display port connectors which can achieve streaming of 4K content at much higher rates. (not to be confused with Gaming prowess).
Inital Thoughts
At 179$ (in US) or Rs. 15,990 (In India), RX 470 definitely has become the most cost effective cards out there especially in India. The Price to performance ratio at 1080p gaming is rivalled by none.
With Nvidia GTX 1060 (Rs. 22,900) and RX 480 4GB/8GB (Rs. 22,990 / Rs. 26,990), if you're satisfied with 1080p 60fps experience, RX 470 4GB at Rs. 15,990 easily is the best choice for gamer on a budget.
Not to mention AMD technology is future proof. Recent examples like amazing compatibility with VULKAN which gave up to 30% performance increase in DOOM only on AMD cards. (maybe because AMD helped in making of Vulkan API).
And AMD had also been show casing superior performance with DirectX12 games which in recent years would become the industry standard, where Nvidia has been struggling a bit with DirextX12 and Vulkan support when compared the prices. The performance gain on AMD cards for Dx12 titles like Total War : Warhammer and Ashes of Singularity were 20% and 40% respectively.
Future Take :
However if the 15,990 price point is still asking a lot, AMD will soon release AMD Radeon RX 460 which will be even more cheaper than RX 470. The AMD RX 470 could have a price close to Rs 10,000 in the Indian market and will compete with the long standing Nvidia GTX 750 Ti.
We will have to see how Nvidia would try to counter this card and would they bring in a Nvidia GTX 1050 sooner than expected.
Nvidia is mainly targeting the enthusiast market with 3 already announced cards like GTX 1080, GTX 1070 and ridiculously priced Titan X (1200$), and only 1 card, GTX 1060 for mid-tier gamers on the other hand AMD seem to be targeting main stream Gamers but pricing in India was terrible.
It would be interesting to see if Nvidia would even try to get into a price war with AMD at 180$ price point. We hope they do, because more competition in a sector means better priced product for all of us.
It may take some days to get listed on Amazon and other major e-retailer websites we will update the article as brands launch more variants.
Written By – Shubhendu Singh.
You May Like to Read :