If you are struggling to improve your WIFI signal, speed, or coverage in your large office/home, you can use these best methods that I have learned over the years from experience and testing.
I have a large house (5000 square feet) and used to struggle with the Wifi Coverage and have been experimenting with different solutions to improve the coverage across the property.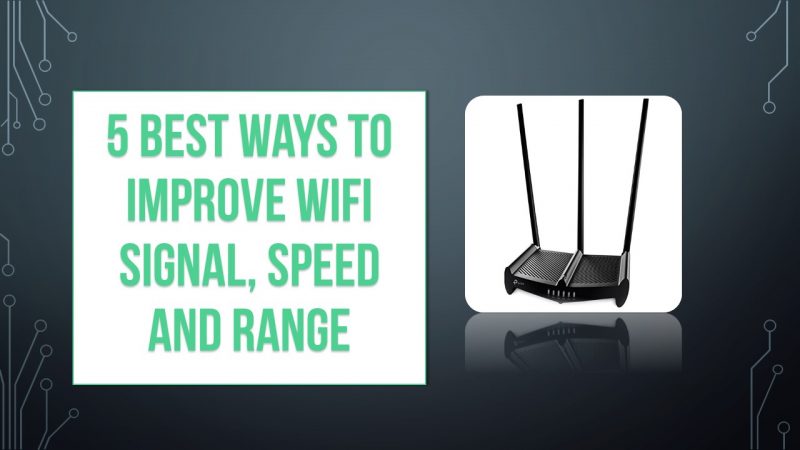 One of the significant challenges I had was coverage in the garden on the ground floor and having good coverage in my office on the first floor.
I am not going to ask you to flash a different room, use aluminum foil, or do some dubious hacks that, in my opinion, don't work.
We will try to use practical methods and are tested to offer a guaranteed improvement in the network quality.
Before we get into the solutions to improve the Wifi Speed and Coverage, please check some of your router's settings.
Router Settings for Better Signal Strength and Coverage:
The 5 GHz band will offer a better speed but will have a lesser range than the 2.4 GHz.
Check your router if it supports Beamforming and enables it.
Enable the Nat Forwarding in case your router supports it.
If you have unstable coverage – try turning off the 5 GHz network (sometimes solves overheating issues).
If you have tried the above and it doesn't solve your network woes then follow the below solutions to get the best range, speed, and coverage.
So let's get into different ways that we can use to improve the coverage. All the methods have their Pros and Cons – pick the one that best suits your needs.
Ways To Improve WIFI Signal, Speed, and Range
1. Buying a Long Range Router – To Improve WIFI Range
The most obvious choice is to go for a long-range router if you were using a basic 2 antenna router and want to increase the coverage slightly more without going into the hassle of configuring a repeater and managing different connections.
Also, with repeaters having different SSIDs, you will have to switch from one WIFI connection to another manually. This is a hassle if you are frequently moving from one corner of your house to another.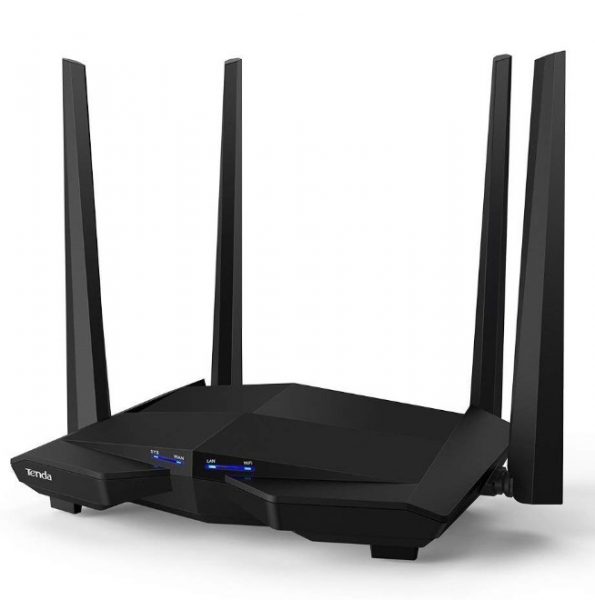 Having one single router with a long-range is easy to maintain and use. Also, in case of a power outage, you will need to have a power backup for two or three routers if you are using multiple routers.
You can also invest in a fast gaming router or a WIFI 6 router to improve the speed, and coverage, and reduce latency.
Using a single router with longer Antennas and range can offer up to 20% more coverage than your usual routers that costs Rs. 1000 or $15.
Also, note that the 5 GHz band will typically have almost half the coverage of the 2.4 Ghz band, so for a longer range, you will have to use the 2.4 GHz band.
2. Using One or Two repeaters With A Router – Improves Coverage and Signal Strenght
If you need more coverage, the next best solution is to buy a repeater. Configure your primary router where you use the internet most of the time or need the best speeds.
In my case, I have the ethernet cable going into my office (1st Floor) and have the primary router there.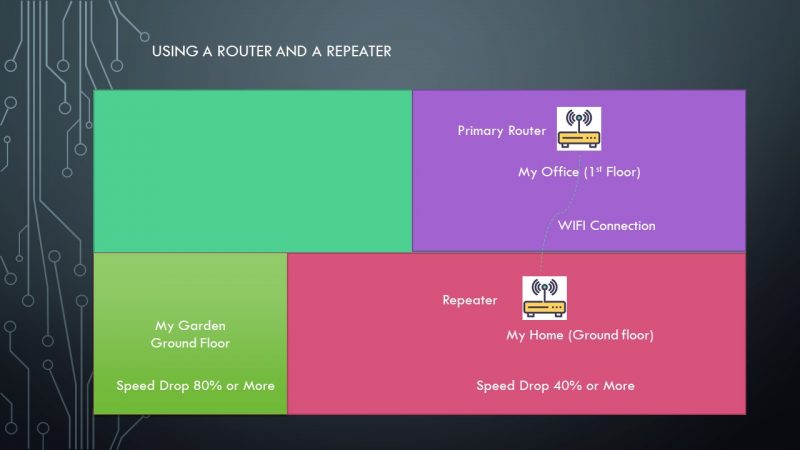 You can place a repeater about 20 feet away from the router and increase your primary route coverage.
Several repeaters are available in the market and won't break the bank. You can buy a repeater for less than Rs. 2000 and it is straightforward to configure and use.
You will see a drop in speed depending on the distance between the primary router and the repeater. The lesser the distance and obstructions between the two, the lesser will be the drop in speed.
3. Using Secondary Routers to work as a repeater – Affordable Way to Improve Wifi Speed and Coverage
If you have a second router available at home, you can turn it into a repeater. Most routers can work in the repeater mode, and it is fairly easy to configure.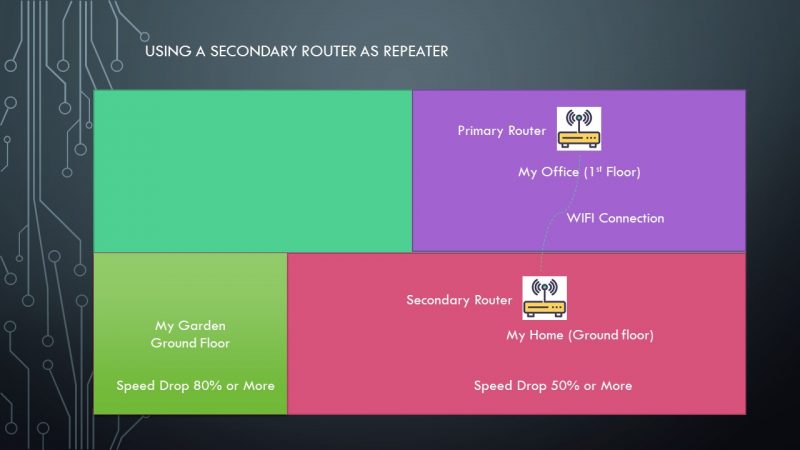 You can even use two different routers to work as a repeater. It is a good cost-effective method to improve the network coverage without spending a penny.
I had a TP-Link Archer AC 1200 router that I was using as my primary router and then also had a low-cost iBall router that came free with my broadband connection.
I configured the iBall router to work as a repeater, and it worked well. However, there is still some drop in speed, and in my experience, it offers the same experience as using a repeater.
Check Out – New Long Range WiFi Routers
4. Using WIFI Mesh Routers – Ideal Solution for Improving Coverage and Signal Strength
If you have a budget and want a robust solution, the Wifi Mesh Routers offer a great solution to extend the WIFI range.
Rather than having a single long-range router, which may be expensive, I would suggest investing in a WIFI Mesh system.
There are several options available from a price starting Rs: 6500 or $80.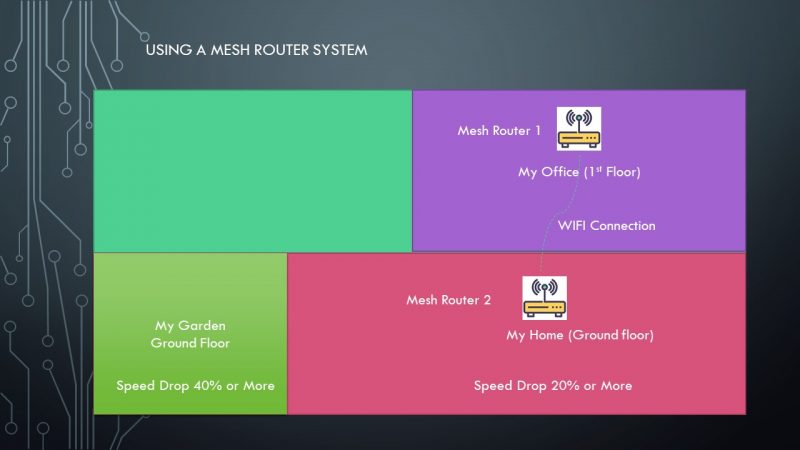 The WIFI mesh system's main benefit is that you get better coverage, and the connection is stable, and the drop in speed is less.
Also, another big advantage is that when you move from one area to another, you will not need to switch the wifi router.
The same SSID works everywhere, and you don't require to switch it manually. The WIFI mesh router system does it automatically.
Here are some of the affordable WIFI Mesh Routers that You can explore:
The last solution that I am currently using at my home and office is cheap and effective.
Also, I wrote a detailed article on the Mesh Router System available in India that you can consider.
5. Using Long Cat-E Cable to Use two routers and add one Repeater
This is the most cost-effective solution and also doesn't have any drop in speed.
You can have the main router in the primary room where you use the internet mostly.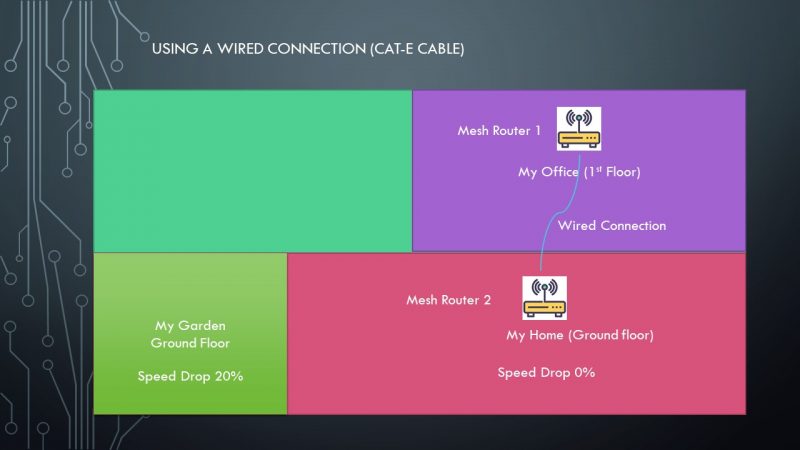 Then buy a long Cat-E cable – I bought a 15-meter long cable that costs just Rs. 400 ( 5$).
It would be best to connect the main router's LAN port to the WAN port of the second router.
In my case, I have the main router on the first floor in my office, and the Cat-E cable runs down to the sitting room on the ground floor.
However, the speed that I get on the main router is the same as what I am getting on the secondary router.
This is amazing when using a repeater or second router; I lost up to 40% of the speed.
If I need to increase the coverage further, I can use another router as a repeater or a dedicated repeater to connect with the second router on the ground floor.
The only Con in using this method is that you will need to run a Cat 6 cable from router 1 to router 2.
These are the five ways you can use to extend the WIFI coverage in your Home or Office.
If you have any questions or issues, then feel free to ask them on Twitter. Also, I wrote a guide on how to re-connect the PPPOE connection automatically.