Introduction – Wifi Mesh Routers
In this post, we will check out the Best WIFI Mesh Routers for Home and Office that you can easily configure and use.
What Is A Mesh Wi-Fi router System?
A mesh Wi-Fi router system has a main router that can link directly to your modem (or your ISP's Ethernet Cable) and there are satellite routers or nodes connected to the main router. The main router and satellite routers collectively form a mesh WIFI system. You can keep satellite routers throughout your home to have full coverage.
These connected routers work as a single wireless network and share a similar SSID and password. Unlike a standalone router, you will get a bunch of routers that you can place in different parts of your home to get better coverage. (See below image)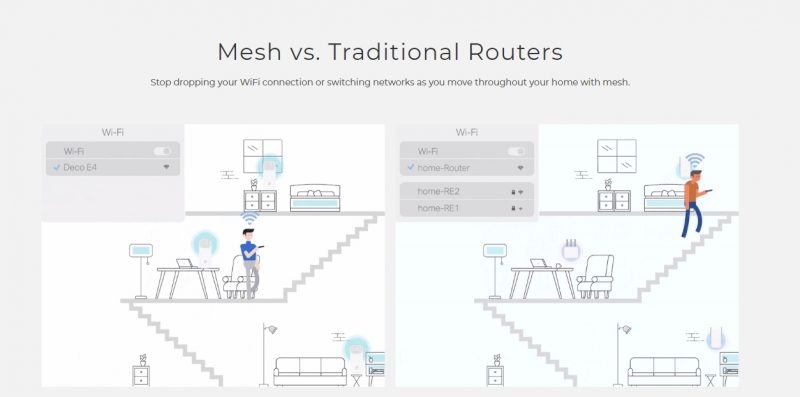 A mesh Wi-Fi system strives to cover your house with adequate wireless coverage. Wi-Fi systems are a hybrid of sorts manufactured from various networking components.
Many Wi-Fi system satellites rely on mesh technology to communicate with the router and each other.
How Does The Wi-Fi Mesh System Work?
A Wi-Fi mesh system can capture the wireless signals from your router and transform it into a mesh blanket, thus enhancing the actual range of your Wi-Fi.
And, there is no limit as to how many satellite mesh routers you may install. You may install two mesh receivers for smaller homes and in difficult areas or to cover a vast commercial office you can use 4 or 5 of them.
Let's Check Out The Best WIFI Mesh Routers That You Can Buy Currently:
1. D-Link COVR-C1100 Dual-Band Whole Home Wi-Fi System
The seamless Wi-Fi solution has emerged as ideal for your entire house. It includes two powerful performance Covr Points with high-speed AC1200 dual-band Wi-Fi.
It supports both 2.4 GHz and 5.0 GHz, bands. Also, it comes with a special feature – LED Wi-Fi signal strength indicator to install in the optimal location for better coverage.
You will also get two on-board Gigabit Ethernet ports (1000MB) per unit for wired connectivity. Further, the Covr-C1100 can give you the maximum potential of wireless AC speeds of up to 1200 Mbps (5 GHz – 867 Mbps and 2.4 GHz (300 Mbps) to all spaces in your home that may include dead spots as well.
You can use a single unit to cover 2000 sq ft and if you need more coverage can buy 2 units and it can easily cover up to 3500 sq ft area. Also, if you have a bungalow or very large house then can even add the third unit to cover up to 5000 sq ft area.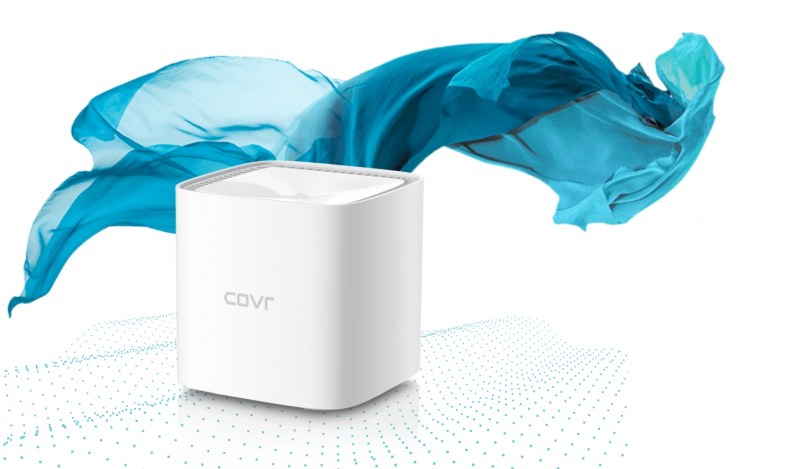 Also, have the MU-MIMO technology to effectively create a robust, fast, and effective Wi-Fi network. You can buy this affordable long-range router for Rs 3499 for a single unit and two units will cost Rs. 7000.
Another, the advantage of buying this router is that it works in the Bridge Mode allows COVR to be used with other routers in case you must keep your original ISPs' router
Key Features: D-Link COVR-C1100 Dual-Band
It offers one seamless network.
It will give you high performance.
You will find it easy to set up.
5 GHz – 867 Mbps and 2.4 GHz (300 Mbps)
It offers Wi-Fi MIMO technology.
Offers USB Type C Connector for Wifi Storage.
Works With VPN, Google Assistant, and Even with Alexa.
Easily control it using Mobile App.
There is a single-button WPS setup.
2. TP-Link Deco M4 Whole Home Mesh Wi-Fi System
On No.2 we have one of the best-selling devices from TP-Link. When you buy this Mesh Wi-Fi system, you will not face any more buffering issues. It promises to offer you robust parental controls. It is easy to install and offers you value for your money.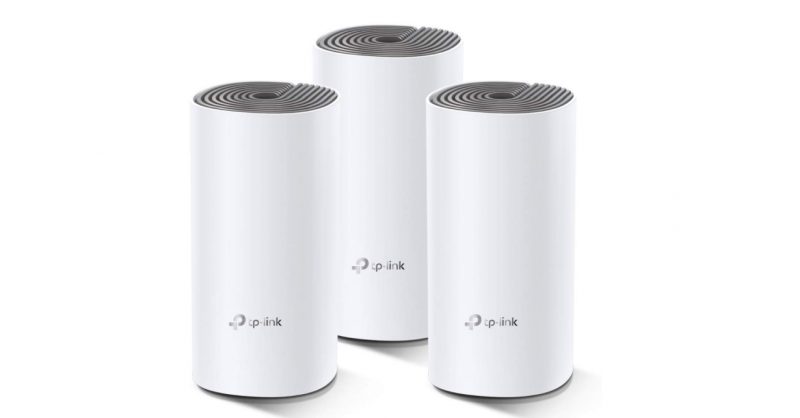 Deco M4 relies on a system of units to accomplish complete home Wi-Fi coverage. It can remove weak signal areas effortlessly once and for all.
The units work in combinations to build a unified network with a single network name. When it comes to coverage, it can provide you 4000 sq. ft. coverage. The Deco M4 also comes with a Gigabit port so that you can enjoy the maximum speed on the connected devices.
You may also add more Decos to the network to enhance coverage. It offers approximately 1167 Mbps high speed and gives you fast and reliable connections. The price of the system is Rs 8999. Don't buy the older Deco E4 that has only a 100 Mbps ethernet port, it may be cheap but is not good for the future.
Key Specifications: TP-Link Deco M4
Deco M4 can offer lag-free connections for up to 100 devices.
You will find it easy to set up with the help of the Deco app.
5 GHz – 867 Mbps and 2.4 GHz (300 Mbps)
Deco M4 can serve as a router, and access point sans any hassle.
It can restrict online time and block unsuitable websites as per the unique profiles established for every family member.
You can easily prioritize specific devices and set up a guest network with the help of App Control.
It offers compatibility with Alexa with just easy voice commands.
3. Tenda Nova MW3 Whole Home Mesh Router WiFi System
Tenda is one of my favorite brands when it comes to routers. Cheap, fast, and has excellent coverage. When you use this Wi-Fi system, you can enjoy fast signals in all the corners of your house on every possible device. Its Nova mesh technology MW3 can establish a distributed Wi-Fi network.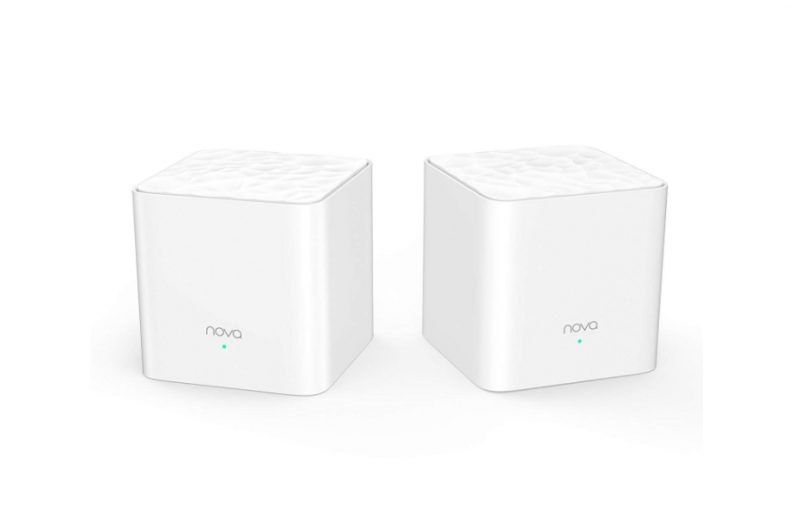 The system assures that you will not face signal drops or any buffering. MU-MIMO technology can keep several devices effectively connected simultaneously. You can easily set up your Wi-Fi instantly with the help of the Tenda app.
You may also build a guest Wi-Fi to protect your network privacy. It also allows you to schedule the time duration for your children's online activity. It helps keep your network smart, and the units work in combination as a system in a single Wi-Fi SSD.
You will not be required to switch signals from each. The price of the Wi-Fi system is Rs 6814.
Key Features: Tenda Nova MW3
It offers reliable and seamless Wi-Fi.
AC1200 – 2.4GHz: 300Mbps, 5GHz: 867Mbps.
You can connect it with more than 50 devices without any buffering.
Nova Mesh can effectively cover 1200 to 1500 Sq ft per unit.
Two units can cover roughly 3000 Sq ft.
You will find it convenient to set up with the help of the Tenda Wifi app.
It can effectively optimize the performance of your vital online activities.
The above 3 are basic Wifi Mesh Routers, if you have very fast internet and want to connect a lot of devices can buy the Mesh systems that I am sharing below for more stability and long-range.
4. Linksys Velop Dualband AC2600 Mesh Wi-Fi 5 Router
Linksys Velop Whole Home WiFi Mesh system comes with an intelligent mesh technology that assures fast and reliable performance. It is available online with a price tag of INR 14,999.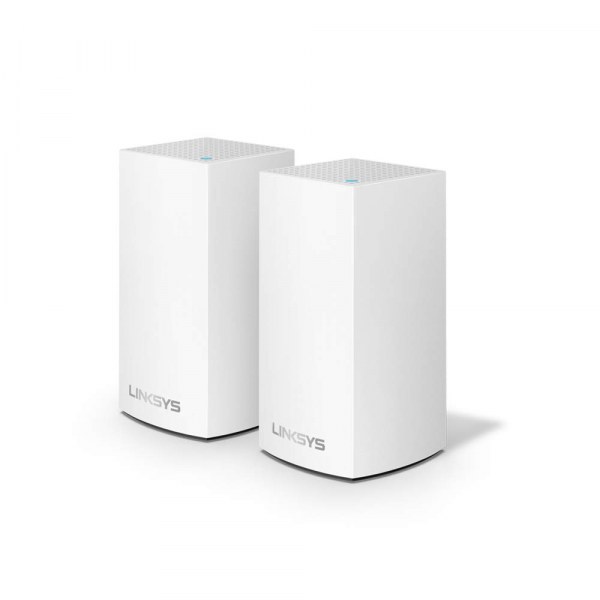 Moreover, it covers your home seamlessly with ultra-fast and full-strength WiFi. Also, it lets you manage your home WiFi connectivity anytime from anywhere via the Linksys app.
With this app, you can manage guest access, parental controls, device prioritization, and speed. The device has a data transfer speed of 1267 Mbps and up to 5 GHz GSM. In addition, it has two ports.
It is perfect for 3000 square feet, like 2 to 4 bedrooms, a medium multi-story home, and a patio. Further, it supports devices with Android 4.4 and above, iOS 9 and above.
Key Features: Linksys Velop Dualband
Dual-Band 867 + 400 Mbps with MU-MIMO and 256 QAM
1267 Mbps data transfer speed
5 GHz GSM frequency
Ideal for 3000 sq.ft
deal for any ISP plan, ISP modem/modem-router, mobile device with Android 4.4 or iOS 9 and higher
Prefers Bluetooth
Compact design with great functionality
Linksys App guides quick setup
5. Netgear Night hawk Whole Home Mesh WiFi 6 System
Netgear Night hawk(Model no – Mk62) mesh system comes with 2 nodes, and it offers good reliability and speed.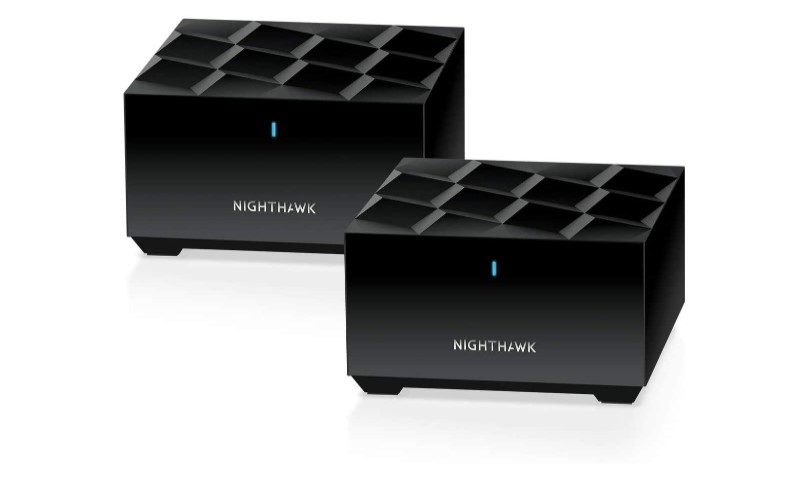 You can build a Mesh Wi-Fi network and stay connected as you roam around the home using a single network name.
You can effectively remove Wi-Fi dead zones and buffering with its powerful 3000 Sq. Ft of regular coverage. It offers you a speed of 1.8 Gbps per second, and It allows you to maintain speed even when more devices use your Wi-Fi because it can support a maximum connection of up to 25+ devices at a time.
You can easily stream HD videos, do gaming or internet surfing, downloading, etc., and this mesh system is also backward compatible. Connectivity options – Gigabit Ethernet ports(2x) on routers and satellites give you a fast wired connection to your high-speed devices.
You can get the pack of two Netgear Nighthawk mesh systems (Model – Mk62) for Rs. 13,999.
Key Features: Netgear Night hawk
It offers a medium-range coverage of up to 3000 sq. ft.
Provide a high speed of up to 1.8 Gbps.
It can manage 25+ connected devices.
Easily stream HD videos, gaming, and internet surfing.
Backward compatible.
WIFI 6 Support – Yes
Also, it can work with almost all Internet Service Providers.
Recommendation – This mesh system provides basic features and comes with a mid-range price tag. Frankly, this system is good for medium houses and small offices.
6. TP-Link Deco X60 AX3000 Premium WIFI 6 – Whole Home Mesh Wi-Fi System
Enjoy whole-home Wi-Fi coverage with the TP-Link Deco X60 Mesh Wi-Fi system. The Wi-Fi system will give you a seamless experience like never before. When it comes to coverage, you will get a whopping 4000+ Sq ft coverage.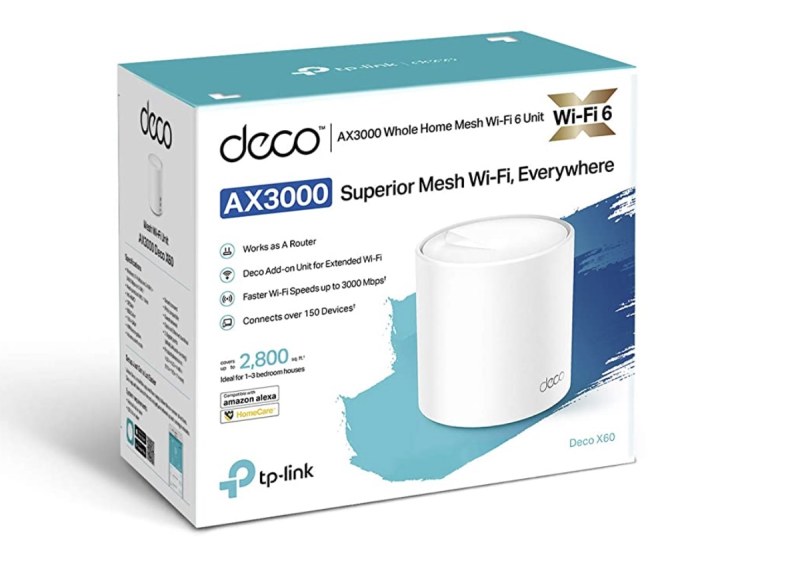 It is a WIFI 6 compatible router and you can use WIFI 6 or WIFI 5 on this with ease. If you are looking to invest in a router system that takes care of the future when most devices will be WIFI 6 this is an affordable option in comparison to rivals.
You get two mesh routers in the base pack. Meanwhile, additional Deco can be added to the network to enhance coverage at any time. It will give you approximately 3000 Mbps high speed (2400Mbps on 5GHz and 574Mbps on 2.4GHz), allowing you to enjoy fast and stable connections.
It works with the leading internet service provider (ISP) and modem. The single Mesh Router is available for Rs. 9,999 and if you need two routers you will need to shell out 20K.
Key Features: TP-Link Deco X60 AX3000
It will provide you lag-free connection for approximately 100 devices
The Deco app will help you at every step of setting it up
Deco X60 will be able to serve as a router, access point, or range extender
Low Latency is even good for gaming.
Future Proof – WIFI 6.
WAP 3 compliant. Parental Control and QoS.
It can limit the online duration and block unwanted websites through parental control
You can pair it with Alexa.
In-built Antivirus
7. Tenda Nova MW6 Mesh Wi-Fi
Tenda Nova MW6 WiFi mesh system offers flexible wireless coverage for apartments, homes, and small offices. It can cover up to 6000 sq. ft. area.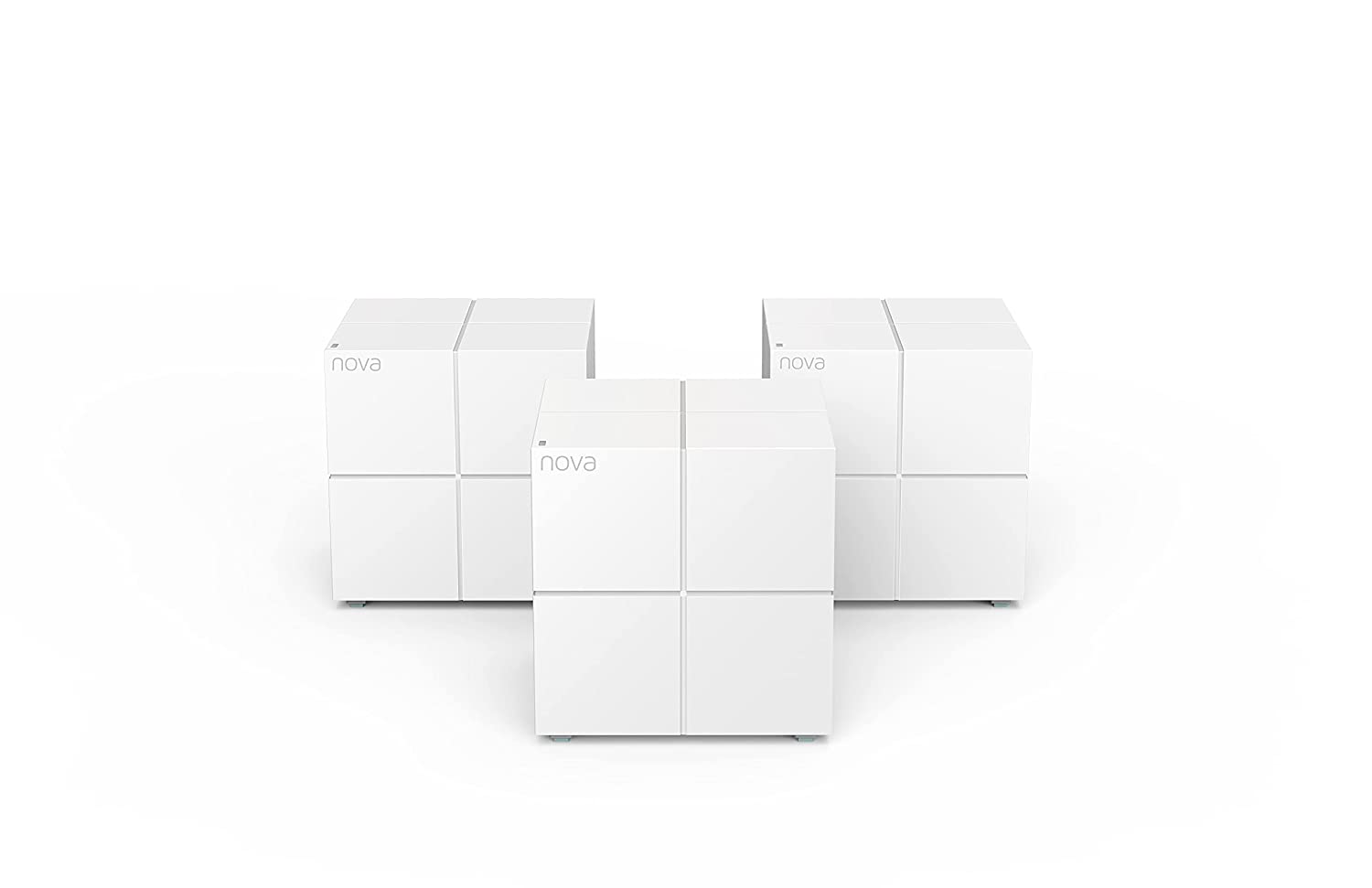 Additionally, it supports multiple devices through Wave 2.0 MU-MIMO and beamforming technology. It keeps the devices connected simultaneously. It automatically scans for the strongest access point to deliver a better WiFi experience when the signal weakens.
The Tenda WiFi application lets you make network setup and management conveniently. It includes WiFI name, password, parental controls, and guest access security.
As the Nova units come pre-paired to each other, you have to plug in and enjoy fast and reliable WiFi connectivity. It is available for INR 15,499.
Key Features: Tenda Nova MW6
Covers up to 6,000 square feet, each Node covers up to 2,000 sq. ft.
Link up to 90 wireless devices
Frequency – 2.4 GHz (up to 300 Mbps) and 5 GHz (up to 867 Mbps)
Wave 2 MU MIMO
Supports Alexa and Google Assistant
Supports 802.11
Provides truly seamless online experience
Tenda app allows various controls
3-year warranty
8. Netgear Orbi RBK50 (AC3000) Whole Home Mesh WiFi System (White)
Netgear Orbi is one of the best WIFI Mesh Systems that you can purchase. It is a bit expensive but it offers great reliability and speed.
The system can keep you connected inside and outside your house effortlessly. You can build a Mesh Wi-Fi network and blanket your home with amazingly seamless Wi-Fi.
The Orbi's vertical design offers fast speed, the least interference, and a Wi-Fi range. You can effectively remove Wi-Fi dead zones and buffering with its powerful 5000 Sq. Ft of regular coverage (pack of 2 routers).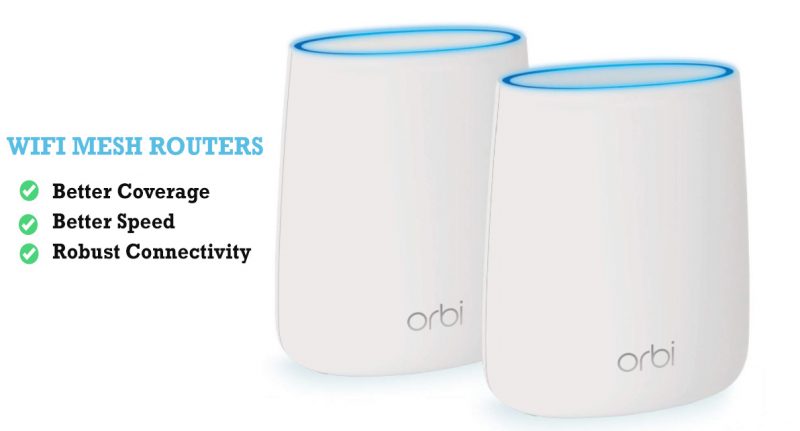 It offers you a speed of 3 Gbps per second and can even work as a gaming router. It allows you to maintain speed even when more devices use your Wi-Fi due to its tri-band technology. You can also stream HD movies to several devices.
You can easily stream 4K videos using the Orbi and will not have buffering issues. This is ideal for homes having 200 Mbps broadband connection speed and where you need to connect several smart devices to the Mesh router system. You can get the pack of two Orbi Mesh routers for Rs. 19,999.
Key Features: Netgear Orbi RBK50
Its built-in NETGEAR armor multi-layer security software can protect all your connected devices.
Supports – Beamforming, MU-MIMO, OFDMA, 1024-QAM.
Supports – WIFI 5, but doesn't support WIFI 6.
You will find it convenient to set up and manage.
The presence of smart parental controls allows you to filter content and manage screen time.
It uses the latest tri-band technology while others rely on dual-band.
It can work with almost all Internet Service Providers.
9. TP-Link Deco M9 Plus AC2200 Smart Home Mesh Wi-Fi System
TP-Link Deco M9 Plus is a pack of 3 nodes that makes a smart home mesh WiFi system that offers Wi-Fi coverage to an area of up to 6,500 sq. ft.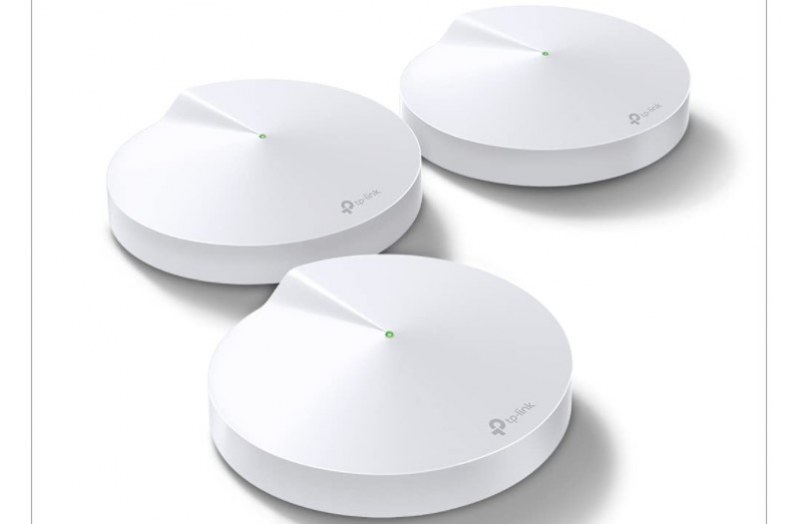 It can offer fast and stable connections with a high speed of up to 2134 Mbps and work with the major internet service provider (ISP) and modem.
This mesh system can handle traffic of even the busiest networks and provides lag-free connections for up to 100 devices.
Users can easily set up and manage mesh systems with the help of the Deco app. Moreover, the mesh system is also compatible with an Alexa, and you can control Deco M9 with simple voice commands.
The TP-Link Deco M9 Plus mesh system is available online along with a price tag of Rs 22,999.
Key Features: TP-Link Deco M9 Plus
It offers wide coverage of up to 6000 Sq—ft.
Provide an immersive speed of up to 2134 Mbps.
The set-up and management process of the mesh system is simple with the Deco app.
Can connect up to 100 devices at a time.
Also, work with Alexa.
It has parental control support and built-in Antivirus like security features.
Recommendation – The TP-Link is a good brand, and its Deco M9 plus mesh system is one of the best products that offer a massive range and coverage. It's good for small and medium offices.
Benefits Of Wi-Fi Mesh System
There are several benefits that you may enjoy when you opt for a Wi-Fi mesh system. Here are some of them: Use the Same WIFI SSID and Auto-Switching –
When you move from one corner of your office to another the Mesh system automatically routes traffic to your phone or laptop from the node that is closest without any manual intervention at your end.
You are using the same SSID throughout your home or office without the need for manual switching.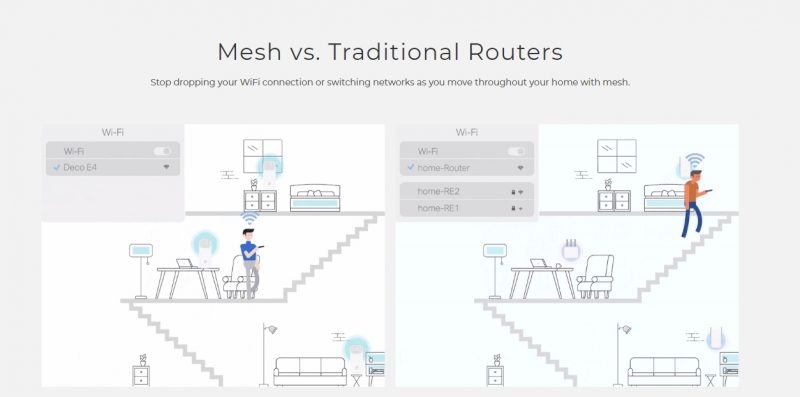 Extend Range – It is the best wireless solution to extend the range of your WIFI unless you opt for running a Cat-6 cable to use multiple routers.
Better than Expensive Single Router – You can also improve the range and coverage of your WIFI network using an expensive gaming router. However, the Mesh system will offer you better coverage and experience than buying a single long-range router.
High volumes Traffic: A wireless mesh network can conveniently tackle high traffic volume and cover a vast area without having a complicated setup. Available in small packages: It is important to note that mesh routers are compact and do not appear like unused robot parts. Everything you require to link to your modem is available in the package.
Whenever you require enhancing your network, you may need to add a station to make the remaining network effective by providing yet another node to tackle traffic from all points. The smooth and hassle-free administration and comparatively less cost make adding a mesh network to your house an easy task.
Easy to Manage and Use: Wi-Fi mesh systems are relatively easy to extend. You can easily manage them using your smartphone, and the system lets you disable Wi-Fi access to particular devices just with the press of a button. You may also provide network significance sans logging into a complicated network console.
Additionally, Wi-Fi mesh systems have low power consumption and offer up to 10,000 square feet of Wi-Fi cover. With the arrival of mesh Wi-Fi networks, you will come across plenty of alternatives to choose from. Okay, now we know the basics of Mesh routers and why they are so useful.
Concluding Thoughts – Best Wifi Mesh Routers
We may conclude here that the Mesh Wi-Fi systems mentioned above offer outstanding performance. You may purchase the one that meets your budget and requirements in the best possible way.
Also, these WIFI routers can work easily with broadband providers like BSNL, JIO, Airtel Xstream, ACT Fibernet.
And, when you are running a big business, you cannot afford anything but the best.
Maintaining a hassle-free Wi-Fi performance and throughput for video streaming, smart home devices, and gaming is becoming essential.
Since many people have begun to work from home now due to COVID, you need to chalk out strategies for crucial work applications and various modes of work communication, particularly video conferencing.
The latest wireless routers have managed to offer robust coverage in a regular-sized home.
However, bigger homes and residences with thick walls, several floors, and other structural obstructions may require extra components to fetch Wi-Fi to those spaces that the router finds it difficult to reach.
Range extenders may provide acceptable performance but offer only partial bandwidth that you receive from your primary router. When using the range extenders or repeaters there is a drop in speed or the connection is not robust.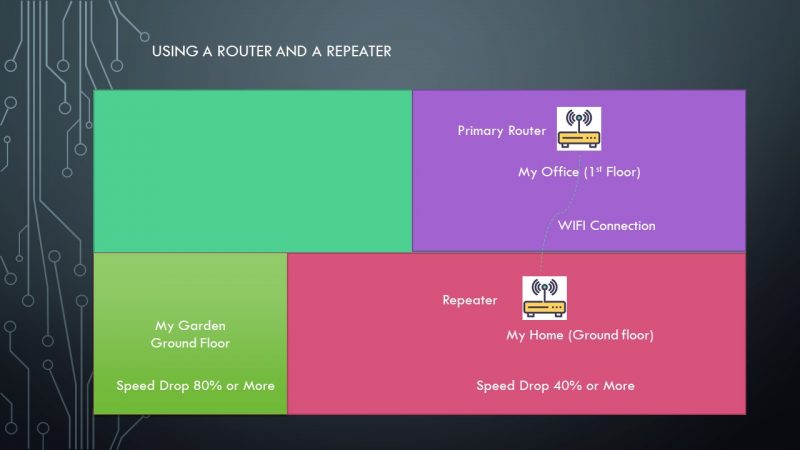 Another solution is to use Acess point. The Access points provide increased bandwidth than range extenders but may need a wired connection to the main router.
Fortunately, you may opt for another reliable and outstanding alternative, i.e., a mesh Wi-Fi system.
Also, you can check the best broadband plans and comparisons or read more in-depth coverage about mesh routers.