Let's check out the Latest Plans For Jio GigaFiber Broadband
Reliance JIO announced the commercial launch of JIO broadband in India on August 12, 2019, and in 2021 it reached most cities in India. The broadband service rivals Airtel Xstream, Den, BSNL, and ACT fibernet broadband services.
Note – I have been using the Jio Broadband at home for more than a year, and so far, the service has been trouble-free.
The Reliance JIO GigaFiber is available with several plans, and the base plan comes with 30 Mbps speed with a monthly rental of Rs. 487 (inclusive of GST).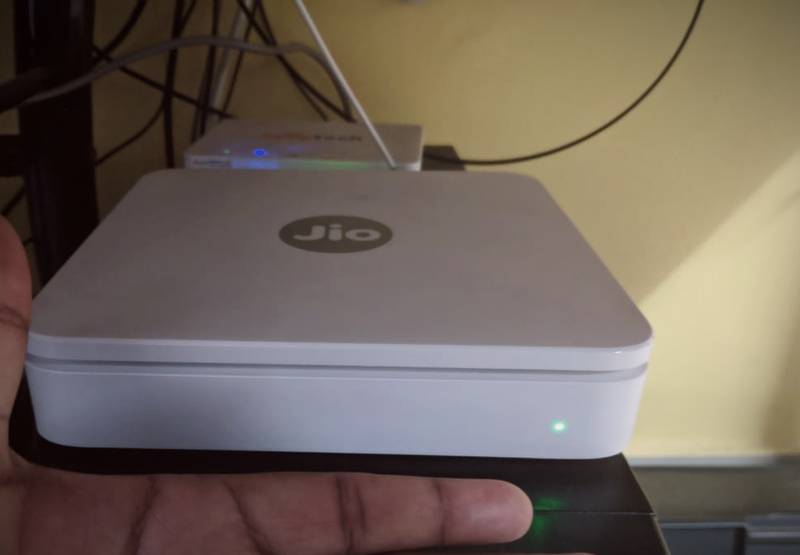 Jio plans to reach 15 million homes and 20 Million businesses with the GigaFiber.
Moreover, different plans will be available for everyone from 30 MBPS to 1000 MBPS, with additional monthly data consumption. You will need a WIFI 6 router to effectively use a 1000 Mbps plan.
There were rumors that Jio could launch the Jio Phone 3 5G at the meeting, but they didn't.
Reliance JIO Broadband Installation Charges
You need to pay One Time Payment (security deposit + non-refundable installation) ₹2,500 (1,500 + 1,000) to get the Jio Giga Home broadband connection.
There are no extra charges for the modem, installation, or Wi-Fi router.
However, Reliance offers a Dual Band Router with excellent connectivity and coverage. I have been using the service (100 Mbps plan) for more than six months, and there is little to complain about.
The speed is excellent, and the downtime is also minimal.
Hathway, BSNL, DEN, ACT Fibernet, and even Airtel offer connections at almost similar pricing.
Jio Gigafiber – Technology and Speeds
The Gigafiber comes with optical fiber technology and needs a physical installation at your home.
The Gigafiber requires physical cable installation at your home. And additionally, we will need a modem and Wi-Fi router. (Provided Free By JIO).
You can also use the ethernet cable to plug in a PC or Laptop and have a Wi-Fi router to connect to various devices in your home. Also, Elon Musk's Starlink Internet is soon launching in India and will compete with Jio Fiber.
Jio Gigafiber offers upto 1000 MBPS speed and depending on the plan you opt for will determine the upload and download speeds from the network.
Best Plans For JIO Gigafiber Broadband
The Jio plans start at Rs. 399 and Another notable point is that these prices don't include 18% GST. So, with GST, the plan costs Rs. 471.
At Rs 999 plan and higher, the user will also get free access to 14/15 Apps worth a Rs 1,000 monthly subscription.
JIO BROADBAND Prepaid Monthly PLANS
Affordable Broadband Plan Under Rs 500 – Rs 399 plan:
It is the most affordable broadband plan by Jio, and the plan offers a 30 Mbps speed to surf and unlimited monthly data(3300 GB).
Furthermore, you will get 30 days of validity on this plan and free unlimited voice calling (local/STD) support, and after including 18% GST the final price of this plan becomes Rs 471.
Broadband Plan Under Rs 1,000:
Two plans are there that are excellent under Rs. 1000.
Rs 699 – This plan offers a 100 MBPS speed for enjoying 3300 GB of data and a free voice calling local/STD and 30 days validity, and after the implementation of 18% GST the final price of this plan becomes Rs 825.
Rs 999 – This plan comes with 150 Mbps speed to surf unlimited data(3300 GB), free voice calling support, access to 14 apps, including a Disney+Hotstar, and Amazon Prime a 30 days validity.
The final price of this plan after including 18% GST is Rs 1,179.
JIO Broadband Plan For Office Use – under Rs 1500
The plan offers you a high speed of 300Mbps for surfing unlimited data(3300 GB) and gives you access to 15 Apps, including Netflix, Amazon Prime, Disney+Hotstar, free voice calling support, and a 1-month validity.
The plan is available for Rs. 1499, but after including 18% GST, the final price is Rs 1,769.
The plans mentioned above are more than sufficient for most home users to stream Netflix, Amazon Prime, Youtube, and other content on 4K resolution on Smart TV and smartphones simultaneously. However, if you need to stream on more than 2-3 devices simultaneously, you can go for the higher bandwidth plan, such as 500 Mbps or 1000 Mbps.
Commercial and Home Plan With 500 Mbps Speed Under Rs. 2,500
In this plan, the user will get 500Mbps speed to surf unlimited data(3300 GB) and free calling support, access to 15 big apps like Netflix, Hotstar, and Amazon Prime, and a validity of 1 month.
After including 18% GST, the final price becomes Rs 2,948.
High Speed 1000 Mbps Plan for JIO – Rs. 3,999
This is the most affordable plan by Jio for enjoying 1 Gbps speed. This plan offers this tremendous speed to surf 3300 GB of data with 30 days validity, unlimited voice calling support, and access to 15 Apps(like Netflix, Hotstar, Amazon Prime) for entertainment.
The final price after including 18% GST is Rs 4,719.
Best Jio broadband plan under Rs 8,500 – Rs 8,499
Lastly, this plan is suitable for the office because this plan offers an ultra-fast 1Gbps speed to surf 6600 GB with the same 1-month validity, unlimited voice call support, and access to the same 15 apps, including Netflix, Amazon Prime, and Disney+Hotstar, along with a final price of Rs 10,029(including 18% GST).
These 15 apps include Netflix, Disney+Hotstar, Amazon Prime, Sony LIV, Zee5, Voot select, Voot kids, ALTBalaji, Sun NXT, Hoichoi, ShemarooMe, Lionsgate Play, Discovery+, Eros Now, Jio Cinema, and last is Jio Saavan.
Disadvantages of JIO Broadband Plans
The One disadvantage of all the Jio Broadband plans is that they do not offer a Post FUP speed support after monthly data consumption.
Even after FUP, Airtel and other providers provide unlimited data consumption of 1 Mbps or 2 Mbps.
Check Out These Best WIFI 6 Routers to Use With JIO Broadband or Explore these affordable long-range routers for your JIO broadband.
Is Jio Gigafiber available as Prepaid or Postpaid Service?
The Jio Broadband is now available as prepaid and postpaid services to consumers.
How to get or Register for JIO GigaFiber?
You will need to register for the JIO Gigafiber connection, and Jio representatives will connect with you. To register for the JIO Gigafiber, follow the Link.
Next, you will have to locate your home or office address on the map and submit it.
Additionally, you will have to provide your mobile number and name to complete the registration. Jio has said that societies with a high-interest rate will get the connection first.
Of course, there are certain cities (mentioned below) where the company is rolling out the network earlier.
More Details and Information Source – Official JIO Website
JioFi M2S Hotspot – A Cheaper Alternative To JIO Broadband
Telecom operator Reliance Jio has changed the entire telecom sector in India. Right from the pricing to reducing the IUC charges, the operator has done everything right to justify the Digital India tagline.
Recently, Reliance Industries' Wi-Fi hotspot device, the JioFi, made headlines as it posted impressive sales volume in Q2 and Q3 2017.With the help of JioFi 2 and JioFi 3, the company has become the top Wi-Fi dongle vendor in India right now.
Notably, the company is now offering JioFi M2S, the first JioFi Wi-Fi dongle, at just Rs. 999. This means we are getting a 50% discount on the usual Rs—1,999 price. It is an insane offer from Reliance Jio.
Moreover, Reliance Jio offers a lower price for ten days, from September 21, 2017, to September 30, 2017. So, if you're looking to grab an affordable Wi-Fi dongle, get the JioFi at a 50% discount.
Reliance Jio has said that introducing the festive offer will digitally enable millions of Indians, especially 2G / 3G device users, to enjoy Jio's unlimited voice and data benefits on their existing devices.
Moreover, as the new JIO plans offer huge data benefits to the mobile, there was a need for a similar push for the dongle.
Many users are switching from desktop and laptops to mobile for doing daily online errands. According to Google, more than 60% of the search traffic is now on mobile.
The JioFi M2S Hotspot device offers up to 150 Mbps download speed, and 50 Mbps upload speed.
These speeds are the acceptable ones in the price range. The JioFi M2S device can connect up to 31 devices and has a 2300mAh battery inside, which will deliver up to eight hours of battery life.
"Reliance Retail has progressively made Digital Life accessible for everyone by bringing innovative 4G-LTE products and solutions to different consumer segments.
Through Jio Phone, Reliance Retail recently helped millions of feature phone users to access Jio Digital Life. And with JioFi, several other smart device users can experience Jio's true 4G services," said the company.
Also, with the help of the JioFi Wi-Fi device, you can use Jio 4G services in a 2G/3G smartphone with the Jio 4GVoice application.
As aforementioned, Jio is offering the dongle at Rs. 999.However, after purchasing the dongle, you need to recharge it with a plan separately.
The plan for JIO dongles starts at Rs. 149 and goes up to Rs. 9999.
Different JIO MIFI Devices Currently Available and Prices
There are currently three JIO WIFI Dongles – JMR 540, JioFI M2, and JMR 1140. All three devices come with 10 Wi-Fi devices support, and you can even connect one device using USB internet.
Also, the JMR 1140 is available only with the postpaid plan and costs Rs. 999 while the other two devices are available with prepaid plans and cost Rs. 1999.
Will you purchase the JioFi at Rs.999?
Please share with us in the comments below.Also, Jio has recently launched the new broadband and Jio GigaTv service in India.
Read About the JIO Set Top Box and Plans in Detail Here.
Also, read about the best-prepaid recharge offers from JIO.