The JIO Set-Top Box is the hottest news on the internet today. Moreover, this is the first time we came across some of the early images of the device. These original images are shared with us by one of our regular readers.
Notably, the JIO DTH service is yet to launch in any city but some details are emerging for a possible launch in coming months.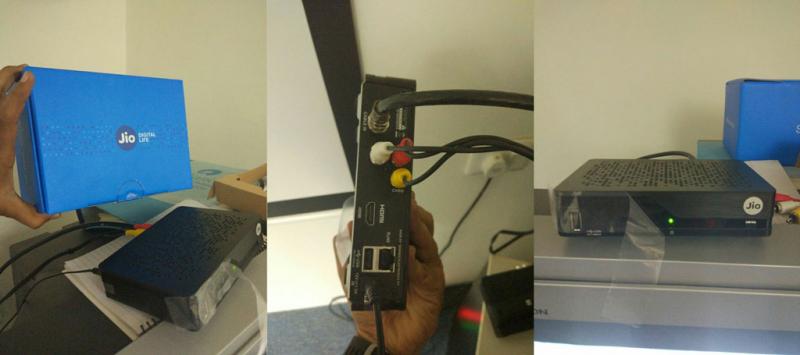 For starters, a leaker shared the JIO Set-top box images on Facebook. It shows the new Set-top box with the packaging, moreover looks similar to Tata-sky box. Besides, It comes with a simple Blue Box with the JIO -Digital Life logo. The front side looks neat and has a port on the left corner.
JIO Set Top Box DTH Service
The rear side has got the audio cable ports and the main cable wire. Furthermore, there is an HDMI port along with the USB and an RJ -45 ethernet port. To that end, the presence of RJ – 45 port means, it can connect to a modem to offer high-speed broadband.
Also, no details are available for the JIO SET TOP Box plans so far, but we can expect that to come in the coming months. Although the gut feeling is that JIO can offer the Set Top Box Service free for 3-6 months. Similar to the JIO sim, to drive installations. In addition to that, it could have a bare minimum cost for the set-top box.
What's more, it may include features like UHD (4K) support and may come with an internet connection too. Undeniably, JIO has already disrupted the telecom market with free plans and they may do the same with the DTH service. For instance, JIO is offering the (Rs.99 + 303) recharge with unlimited benefits, for 3 months as the JIO Summer offer.
However, We will have to wait and see what JIO launches in the Digital TV industry and how the leading players like Tata Sky and Dish TV react to it.
Jio has a steely determination, and if JIO starts a set-top box service, it is going to be a strenuous time for the rivals. In fact, the prices for digital TV packages will at least drop by 50%.
If you have some more details, can share in comments below. Also, I wrote a guide about how to solve battery drain on the JIO sim which can be handy for you if you are a JIO customer.