It is relatively easy to choose components and build a gaming RIG for a 5oK plus budget but as we keep lowering the budget it becomes relatively difficult.
Choosing the parts and building a PC in this range needs much more precision as the budget is a constraint and it becomes difficult to get the high FPS with low priced hardware. We will attempt to create the best PC configuration which can maximize gaming and overall performance of the RIG.
There are many combinations which you can buy when it comes to PC components. But the best configuration is that which optimizes a PC performance as a whole and give the best possible experience.
Fitting together the right GPU and CPU is essential and all other components should as well augment the key parts to increase the performance as a whole. Will try to avoid expensive components in this build or spend on any one component more as it will impact the overall build quality.
Please pardon me for any price changes in the PC components. Here is another article for you if you want a Gaming PC for Rs. 50000.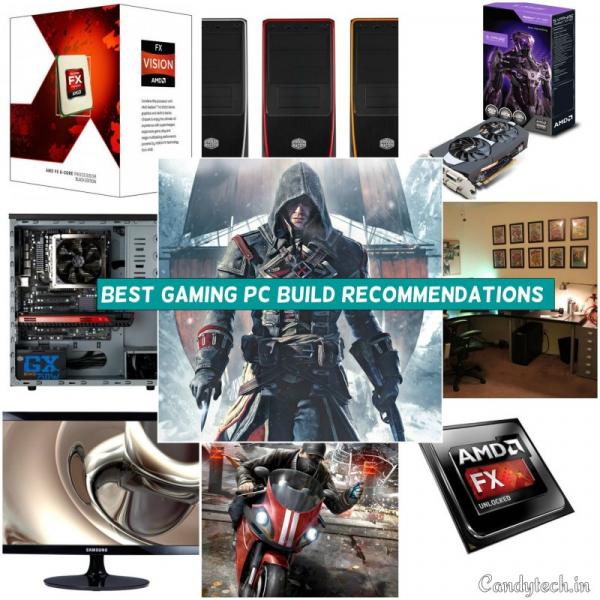 All the PC gaming Build in the article or on candytech.in are based on two principles:
Best Value for Money
Best utilization of budget in Hand so overall rig gives excellent performance
3 Best Gaming PC configuration under Rs 40000 India 
About the Build– For the first build we would be using an AMD processor FX-6300 which offers good processing power coupled with over clocking potential.  The second build is Intel based and it is meant for advanced users as the Processor and motherboard used is required to over clock only then you will get the benefit of the RIG's full potential.
For all  1st time buyers I would suggest to go ahead with the AMD build or the core i 3 build but if you want more performance from the money spent be my guest to try the 2nd build with Intel G- 3258. You will get approx 5-10 FPS more in almost all titles with this Intel build.
The third build is slightly expensive and use an Intel Architecture and does not require much on user part and will offer equivalent/better performance to the AMD build.
1) AMD Gaming PC configuration for Rs 40000
PC Configuration
                                  Model & Specification
Price
Cabinet
Cooler Master Elite 311 CPU Cabinet
2400
Monitor
Samsung 19 Inch Led Monitor S19d300ny/ue
5400
Ram
Corsair DDR3 4 GB (1 x 4 GB) PC RAM (CMV4GX3M1A1333C9)
2800
Hard Disk
WD Blue WD10EZEX 1 TB Internal Hard Drive
4100
Power Supply
Cooler Master Thunder 500W 500 Watts PSU
3250
Processor
AMD 3.5 AM3+ FX 6-Core Edition FX-6300 (FD6300WMHKBOX) Processor
7500
Graphics Card
Sapphire AMD/ATI Radeon R7 265 DUAL-X 2GB Graphics Card
11,500
Mother Board
Gigabyte GA-78LMT-USB3 Motherboard
4,100
                                                     Total
 41,050
Components Evaluation and Specs
COOLER MASTER ELITE 311 CPU CABINETSpecial note on the cooler master elite cabinet, you can use the cabinet even on later stage so its better to invest in a good cabinet than buying a local case.
It is designed to accommodate micro-ATX and ATX motherboards & power supply placement on top. The HDD Cage can be removed for installing Long VGA cards including AMD 7970. The Elite 311 is pre-installed with a rear 120 mm fan and comes with the option to install even more fans.
Key Specs
 Dimension (W / H / D)    190 x 450 x 477 mm / 7.5 x 17.7 x 18.8 inches.
Installed – 1 Fan.
Can add more Fans 4 easily.
Front     120/ 140 mm fan (optional).
Rear       120 x 25 mm fan x 1, 1200 rpm, 17 dBA; 80/90 mm fan x 1 (Optional).
Side       120 mm fan x 1 (Optional).
 Mid Tower Cabinet.
2 USB 2.0 Ports.
7 Expansion Slots.
Suitable for micro-ATX, ATX Motherboards.
Power Supply Placement at Bottom.
Samsung 19 Inch Led Monitor: offers good display though not FHD it is an HD monitor and good with this configuration. The biggest plus is the 19 inch screen size and Samsung being a reliable brand in LED monitors.
Monitor Type : LED.
Screen Size : 19 Inch.
Warranty: 1 Year.
Colour: Black High Gloss.
Features: HD.
Corsair DDR3 4 GB (1 x 4 GB) PC RAM (CMV4GX3M1A1333C9) –  It is a good piece of hardware for the price and perfectly suited for the build.
DDR3-1333
DIMM Memory Module.
240-pin Configuration.
1.5 V Specified Voltage.
Dual Channel Memory Configuration
Comes with 10-year warranty term.
WD Blue WD10EZEX 1 TB Internal Hard Drive – offers great speed and reliability and is generally preferred over Seagate. You can choose Seagate as well and also we have taken the 1Tb version for the build while if you want to save some money can go ahead with a 500Gb Hard disk and later add another 1 Tb.
3.5 inch Form Factor
SATA 6.0 Gbps Interface.
64 MB Cache Memory.
150 Mbps Sustained Transfer Rate.
300000 Load/Unload Cycles.
Key Features of Gigabyte GA-78LMT – USB3 Motherboard
4 Memory Slots
AM3+ Socket Type.
Dual Channel DIMM Memory.
Maximum 32 GB DDR3.
Micro-ATX Form Factor.
AMD 760G
AMD SB710.
RAID Controller: AMD SB710.
Hybrid EFI technology with DualBIOS for 3TB HDD support.
4 USB 3.0 with superspeed transfer rates of up to 5 Gbps.
The motherboard comes with EC AOD-ACC is described as Embedded Controller for AMD OverDrive- Advanced Clock Calibration. The feature comes from AMD SB750/ SB710 SouthBridge chip, destined for the AMD Black Edition CPU to be overclocked through BIOS setting or AMD OverDrive.
AMD 3.5 AM3+ FX 6-Core Edition FX-6300 Processor
Speed 3.5 with Maximum Turbo Speed of 4.1
 Number of Cores 6 Cores
L2 cache of 6 MB and L3 cache of 8 MB, the processor performs with excellent speed and efficiency while you run multiple applications. A frequency range of 3.5/4.1 GHz.
Bulldozer architecture, this AMD FX 6300 processor comes with a 32-nanometer die size
It is a good processor for the price and matches intel core i3 in performance and in some multi-threaded applications outperform the Intel core i3 as well. you can buy a black edition AMD FX 6300 for overclocking.
 Sapphire AMD/ATI Radeon R7 265 DUAL-X 2GB Graphics Card –
R7 265 is a highly capable graphics card and for this price offers great performance and matches a GTX 660 in performance. R7 265 is our obvious choice and we would have liked to include the R7-265X but it has a limited availability in India if you can find one you should surely buy the 265X.
R7 265 2G GDDR5 DUAL-X comes with 2GB of the latest DDR5 memory clocked at 1400MHz (5.6GB/s effective) and core clocks of 900MHz (925MHz with dynamic boost).
Bus Standard PCI Express 3.0.
GPU Clock 900 MHz.
Power Supply Required 500 W.
Part Number 299-4E271-400SA.
Model ID R7 265.
Cooling and Heatsink Fans – 2.
Warranty 3 years.
Sometimes gamers ask me if the 2Gb graphics card is enough, here is an article to understand how much memory is actually required by graphics card and at what resolution.
Please click next to check out the build 2 & build 3.
*Disclosure - Dear Reader, Independent, Unbiased Tech Journalism is getting harder. To keep the lights on Candytech.in really need your help. Share, Like,
Follow-Us on Social, Sign-up
, or buy products using our links to keep this small business alive. Thank You For Being A Reader!