Acer, the well-known laptop brand has unveiled its latest Acer Nitro 5 gaming laptops in India.  The Nitro 5 comes with decent specifications on paper. The company has launched the new Acer Nitro 5 powered by the 8 Core AMD Ryzen 4800H in India.
The Acer Nitro 5 is available in 3 configurations currently: 
Ryzen 7 – 4800H Price Rs. 79,980
Intel Core i7 10th Gen 10750H, Price Rs. 79,990
Intel Core i5 10th Gen 105300H, Price Rs. 74,990
Acer Nitro 5 – Powered By AMD Ryzen 4800H, Price Rs. 79,980
Acer Nitro laptops are one of the best gaming laptops that are available for an affordable value.
The new Acer Nitro 5 shouts gaming as it comes with the red & black accent. There is a red-backlit gaming keyboard and the display has cut-outs at the top that makes it look like a gaming machine.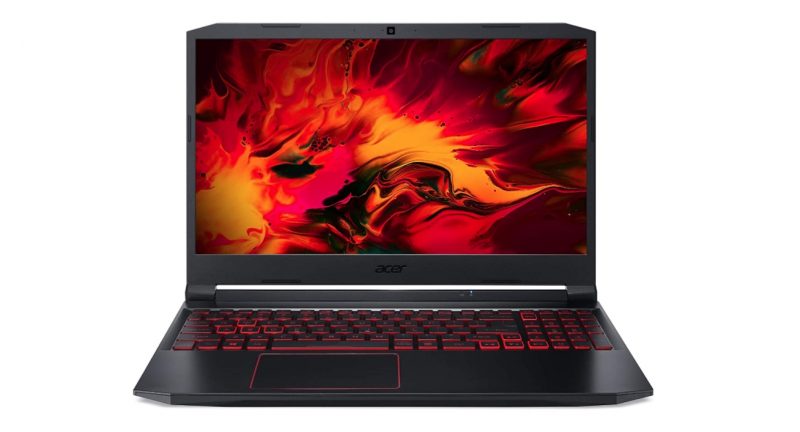 Earlier the company has launched the Nitro series with the Intel 10th Gen processors but now after huge demand for the Ryzen 4000 series finally we have the latest AMD 4000H processor-based Nitro 5.
The laptop features a 15.6 inches Full HD IPS panel display with In- Panel switching technology.
It has a LED Backlit TFT LCD panel with ComfyView. The screen has 1920 * 1080, 16:9 aspect ratio, and 45% NTSC color gamut. Notably, this is not a very color-accurate panel and not ideal for content creators but gamers will not find it to be bad. 
On the positive side, It allows us to set a higher refresh rate up to 144 Hz the panel also has a low latency of 3ms. It is ideal for fast-paced titles like CS: GO, Volarant, and Battlefield. 
The laptop is powered by a Ryzen 7 4800H ( 8 Cores processor with 16 threads, 7Nm) gaming processor by AMD. The Ryzen 4800H is an absolute beast that comes with a 2.9 GHz core clock speed and has a 4.2 GHz Boost clock speed.
It is far better than the Intel Core i7 10750H and is ideal for gaming as well as content creation and day to day tasks. 
Specs and Features
Additionally, the laptop comes with the Acer CoolBoost technology that can cool the machine when gaming or under a heavy workload.
It runs on Windows 10 Home Operating System.
The Nitro 5 comes with an entry-level graphics card – NVIDIA GeForce GTX 1650 with 4 GB GDDR6 VRAM. It's not the most powerful GPU and can barely push demanding AAA titles to 60 FPS. 
If you are looking for something more powerful you can take a look at the Asus TUF A series of gaming laptops.
As far as the memory is concerned, it arrives with 8 GB DDR4 RAM with 2933 Mhz clock speed and the Ram is user expandable up to 32 GB using two SODIMM modules.
Unlike most laptops that come with just the soldered Ram, Acer is giving an option to upgrade the Ram that is great for future upgrades. 
The storage involves 256 GB NVMe SSD + 1TB 2.5 inch (7200 rpm).
The laptop weighs 2.3 kg with a height of 25.5cm. Considering the weight of the machine, it is not too heavy and is comparable to the HP-Omen or the Asus Tuf A series of machines.
It packs a battery of 57.5 WHr, which claims to have a life of about 10 hours. In practical day to day usage, we can expect it to run for 5 hours on the battery when you are not gaming.   
Notably, the keyboard comes with a red-backlit keyboard with an Independent Standard Numeric keypad.
The speaker has DTS:X Ultra Audio ( with optimized bass and loudness). It is preserved with up to 6 custom content modes by a smart amplifier.
Moreover, it comes with several ports – 2 * USB 3.2 Gen 1, USB 3.2 Gen 1, USB Type-C, HDMI, Ethernet, Microphone, and audio out port.
Another positive is the addition of the latest WIFI 6 with 2 * 2 MU – MIMO technology and a Bluetooth v5.0. You can expect better WIFI performance from the Acer Nitro 5. 
The HD webcam supports 720p.
The Acer Nitro 5 (2020) with Ryzen 7 4800H gaming laptop is available at the amount of INR 79,990.
 Acer Nitro 5 – Intel Core i7 10750H
The Acer Nitro 5 powered by the Intel Core i7 10750H comes with the same design and features as the Ryzen 4800H version. Here the key difference is the processor.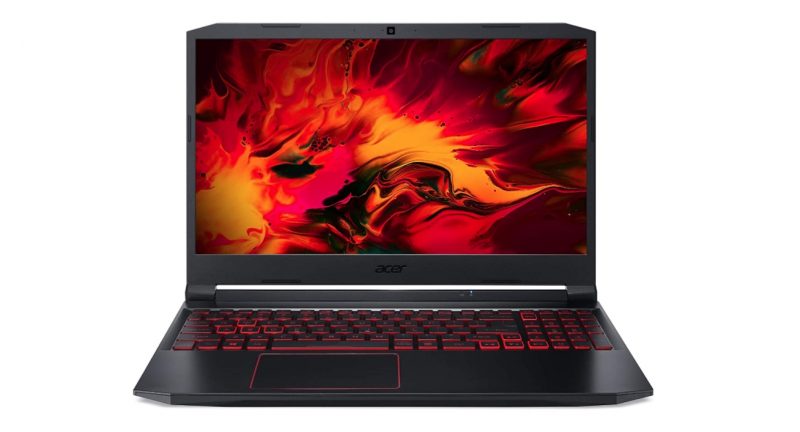 The Intel Core i7 10750 H is a Hexa-Core (6 Core) Processor and comes with a 2.6 GHz Core clock speed and has 5.0 GHz boost core speed. Also, the processor comes with 45 Watts TDP and also has got 12 MB of Cache.
The key difference between the Ryzen 4800H and the Intel i7 is the manufacturing process – the Ryzen 4800H is manufactured using the 7 Nm process whereas the Intel Chip is manufactured using the dated 14 Nm process.
The Ryzen 4800H performs better in many tasks and also is more energy efficient. But the Intel i7 10750H is also no slouch and can easily play all gaming titles at nearly the same frame rates as the Ryzen 4800H.
The laptop comes with Nvidia GTX 1650 Graphics card with 4 GB of Vram and has got 8 GB DDR4 Ram and 256 GB SSD + 1 TB HD storage.
The Intel Nitro 5 is available for Rs. 79,990 for purchase on Amazon.
 Acer Nitro 5 – Intel Core i5 105300H
Lastly, we have another version of the Acer Nitro 5 available, it comes with the slightly less powerful Intel Core i5 10th Generation processor. The i5 version of the Nitro 5 is available for Rs. 74,990 with similar specs as the above mentioned two machines.
However, here we are getting the Intel Core i5 10300H that comes with 4 Cores and 8 threads architecture and has got a base clock speed of 2.5 GHz and a boost clock speed of 4.5 GHz.
The processor comes with 8 MB of Cache and is also manufactured using the 14 Nm manufacturing process.  Overall you can expect a 10 to 15% decline in gaming performance when using the i5 variant over the other two and for productivity tasks it can be slower up to 50% roughly in some of the multi-threaded applications.
I will suggest to purchase the Intel Core i7 or better go with the Ryzen 4800H variant of the Nitro 5.
Dell G7 and G3 Gaming Laptops launched, Specs, Price, and Features (2020)
6 Best AMD Ryzen Laptops For Gaming Or Work (2020)
*Disclosure - Dear Reader, Independent, Unbiased Tech Journalism is getting harder. To keep the lights on, Candytech.in really needs your help. Share, Like,
Follow-Us on Social, Sign-up
, or buy products using our links to keep this small business alive. Thank You For Being A Reader!